Purcell lawyers in complaint over data breach
Lawyers for the ex-boss of Glasgow City Council say claims in a newspaper relating to his health were leaked by former colleagues.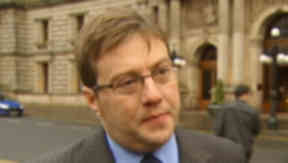 Lawyers acting for former Glasgow City Council chief Steven Purcell have made a complaint to data watchdogs relating to the state of his health.
The complaint relates to reports in The Scotsman newspaper, which claimed Mr Purcell's in-house team of advisers were about to reveal the reasons behind his sudden departure as head of Scotland's largest local authority.
His aides were said to be thinking of using the words "chemical dependency" while making it clear he required treatment.
His lawyers claim the alleged information was provided by someone within Glasgow City Council, which breaches the Data Protection Act.
On Wednesday it was revealed that Mr Purcell had been a patient of Castle Craig clinic in Peebleshire. The clinic, one of the top in Europe, specialises in the care of people with drug and drink addiction.
But instead of issuing a statement from his in-house team, Mr Purcell hired his own adviser, Jack Irvine, the head of PR agency Media House. In his official statement, Mr Irvine said the Labour councillor had resigned from his post due to "stress and exhaustion".
The statement also cited the "strain of running one of the UK's largest authorities, combined with the added pressures of the Commonwealth Games planning and the controversy over Strathclyde Partnership for Transport".
Legal warnings
The Scotsman claimed that on Wednesday the council had been warned prior to the leader's resignation that it could face a possible interdict from Mr Purcell's lawyers if it were to say anything about his health. As a result, council officials were unable to answer questions about his whereabouts.
A statement released on Thursday by lawyers Levy & McRae said: "Lawyers acting on behalf of the former Labour leader of Glasgow City Council, Steven Purcell, have written to the Information Commissioner following publication in today's edition of The Scotsman newspaper of information relating to the health of the politician.
"Solicitor Advocate Peter Watson claims that information concerning Mr Purcell's alleged health problems appears to have been provided to the newspaper by one or more persons within Glasgow City Council.
"The information which has been provided is data which falls within the term of the Data Protection Act 1998. Since release was not authorised by Mr Purcell ex facie there appears to be a breach of the Act and an offence has been committed.
"Mr Watson has called on the Information Commissioner to investigate the matter and consider initiating proceedings."
The Information Commissioner is the UK's independent authority who upholds information rights in the public interest, promoting openness by public bodies and data privacy for individuals.