Controversy surrounds Steven Purcell's stay at private clinic
The psychiatrist at the private clinic reported to have denied drug treatment for former Glasgow council leader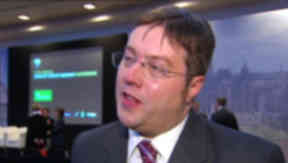 Controversy still surrounds the former leader of Glasgow City Council Steven Purcell after he was treated in a private clinic which specialises in drug and alcohol dependency.
A letter by his psychiatrist published notes he was not treated for a drug problem at Castle Craig rehabilitation clinic in Peebleshire.
Dr Florian Kaplick was quoted as saying that in the medical assessment of Mr Purcell, 37, that it needed to be noted that he was not treated for "a drug problem".
STV News revealed yesterday that Lothian and Borders police officers were called in to search for the leader of Glasgow City Council after he disappeared on Sunday from the clinic.
Police confirmed in a statement on Thursday: "A 37-year-old man was reported missing in the Borders area on Sunday, February 28, 2010. While a search was being organised, the man returned."
Public relations expert Jack Irvine, whose firm Media House are representing Mr Purcell, confirmed his client had been resident at Castle Craig, and said he finally left the private hospital on Tuesday. The clinic treats drug and alcohol addictions, among other conditions. Mr Purcell is said to have been suffering from "stress and exhaustion".
Asked about the police search, a Media House spokesman said on Thursday: "I was not aware of that until you told me. It's a police matter. I wasn't aware of it so I can't confirm or deny it."
**
'Chemical dependency'**
Earlier on Thursday, lawyers acting on behalf of Steven Purcell rejected claims that Glasgow City Council chiefs were preparing to tell the public he was suffering from a "chemical dependency".
The Scotsman reported on Thursday that a team of council aides had been preparing to assist Mr Purcell in a public relations strategy before his shock resignation on Monday.
    FULL STORY: Purcell lawyers in complaint over data breach
The newspaper said the draft proposal from Mr Purcell's in-house team of advisors would have laid out the reasons for his sudden departure with the words "chemical dependency" suggested to explain the condition. The advisors said the story was "without foundation".
The 37-year-old politician's team rejected the latest newspaper story. They released a statement saying: "Today's story in The Scotsman is without foundation and is now in the hands of Councillor Steven Purcell's legal advisers." Glasgow City Council said it could not comment.
BACKGROUND