8000 teachers and parents protest against school cuts
VIDEO: "School is a once in a lifetime opportunity and we see no reason why children's future prospects should be blighted by the reckless behaviour of others" – EIS general secretary Ronnie Smith.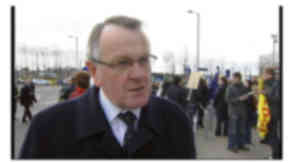 Thousands of teachers, lecturers and parents took part in a protest march against education funding cuts.
The demonstration in Glasgow was part of a campaign by the Educational Institute of Scotland (EIS) to protect funding schools, colleges and universities amid looming cuts and job losses by local authorities and education institutions.
EIS and union officials blame the Government's bail-out of the banks for proposed cuts and launched the Why Must Our Children Pay? campaign.
"Youngsters only get one chance at school education," said EIS general secretary Ronnie Smith. "They can't come back five years down the line when things are better and do it all over again.
"Money allocated to education is not a cost, but an investment in our children and in the future prosperity of our entire country.
"How can Scotland be expected to compete in an increasingly competitive global economy without a highly-educated, highly-skilled workforce?
"There is a great deal at stake but we cannot allow Scottish education, and the pupils and students of Scotland, to suffer through no fault of their own."
Demonstrators marched from Kelvingrove Park through the city centre to the SECC, where a rally was held.
Ronnie Smith added: "The fact that teachers and lecturers from all sectors of education will be marching alongside parents, pupils, students and others shows that there is real unity in the support for our education system."
Members of the University and College Union (UCU) Scotland will also take part in the event.
Scottish official Mary Senior said: "We are very clear of the need to defend jobs and defend education against the punitive cuts agenda.
"Cuts in higher education, especially the reduction in teacher education, will impact massively in Scottish schools and on class sizes in particular."
Education Secretary Mike Russell believes Scotland must unite against any Westminster cuts.
He said: "The fact is that the UK Government has already cut the Scottish Government's budget by over £500 million in 2010/11 - the first real terms cut since devolution.
"So far, education has been protected by the SNP Government, with councils reporting planned increases of 2.6 per cent this year.
"That has delivered record levels of spending per pupil - at levels significantly higher than south of the border - but this will be under real threat if the Westminster parties get their way and impose 'savage cuts' on Scotland."