Appeals against freedom of information refusals increase
Hunger for more information on service providers from public service providers also goes up and could swell in recession aftermath.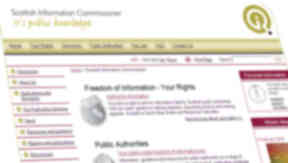 The Scottish Information Commissioner has reported a 15% increase in people appealing Freedom of Information requests if they were rejected.
Kevin Dunion, who investigates organisations which refuse to provide information, said he received a total of 421 appeals last year.
He also found that a public authority had breached the law in some way in two-thirds of the appeals that were made to him Of the 160 decisions taken by Mr Dunion, he found in favour of the applicant in more than two thirds of the cases.
Appeals upheld included a request by trade union Unison to see financial documents relating to Kilmarnock Prison, and also ordered the release of information to the Scottish Rural Schools Network, which wanted information on why schools were to be closed in its area.
Mr Dunion warned public bodies that they may face an increase in FOI requests from people concerned about spending cuts and urged their staff to "think FOI" regarding internal communications.
He said: "Last year saw a significant increase in the number of appeals I received. The effect of the recession on public spending may well mean even more requests for information being made by people concerned about public authority decisions which affect services, funding or jobs.
"It is therefore essential that public authorities take steps to make sure they can more readily comply with FOI, giving people the information they want, while minimising the impact on public authority resources.
"Key to this is assuming information will be released. When staff create information, they should be aware that their reports, emails and notes may one day be released under FOI. By encouraging staff at all levels to 'think FOI', public authorities can encourage a more professional approach to internal, as well as external, communications - making it far easier to contemplate release."
The public's right to make Freedom of Information (FOI) requests to the likes of councils, the NHS, police and the Scottish Parliament was introduced five years ago. There was also a 16% increase in the number of people seeking advice on using FOI requests, compared with the previous year.
Mr Dunion welcomed the Scottish Government's proposals to extend the FOI Act to a range of organisations not currently covered by the legislation, including private contractors who build and maintain schools and hospitals and housing associations.