Scots sentences get longer as more people are sent to jail
New statistics reveal an increase in the number of prison sentences being imposed, as well as in the terms served for crimes such as weapons possession.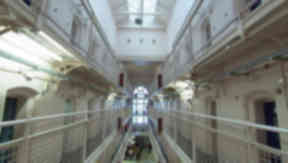 Judges in Scotland handed out more jail terms last year than at any time during the previous decade.
New statistics released on Tuesday show 16,900 custodial sentences were imposed by Scotland's courts in 2008-2009, with the average length of a spell behind bars increasing by five percent on the previous year.
For crimes of handling an offensive weapon, the average length of jail terms rose by 21%. Those caught carrying a knife are now serving jail sentences twice as long as in 2005, with the average term now eight and a half months.
Justice Secretary Kenny MacAskill said: "Far too many lives are lost and people injured though mindless acts of violence - often because of the knife culture that blights too many communities. That is why we are working to change the culture of violence in Scotland through education and tough enforcement.
"We are taking tough action on those who carry and use knives, doing more than ever before. We've seen jail terms for knife carrying increase by almost two-thirds over the past two years and we've delivered a record number of police officers - a thousand extra - to catch offenders, with recorded crime in Scotland now at its lowest level for nearly 30 years."
Mr MacAskill added: "It is for the courts to decide on what sentence to impose based on the evidence before them, but anyone using a knife can expect to go to jail. The courts have the powers needed to impose substantial sentences of up four years for possession so, if a court weighs up the circumstances and decides that a four-year sentence is appropriate, they should go ahead and impose it. 
"Whether it's a totally misguided person who thinks a knife gives extra protection, or a mindless thug with violent intentions, today's statistics should be a wake up call. If you use a knife, you will be punished and you will face a lengthy prison sentence. 
The Scottish Government wants to see short prison sentences replaced with tougher community penalties, in a bid to cut overcrowding and tackle reoffending rates. Tuesday's figures reveal a seven percent increase in community sentencing. The number of crimes being punished by way of a fine fell by 12%, however, a total of 59% of offences were still punished with a financial penalty.
The Government also revealed 66% of criminals convicted last year had committed a previous offence in the last decade, while 19% of offences were carried out by offenders on bail.
While the figures highlight an ageing Scottish prison population, they also confirm the peak age for conviction is 18, with six percent of males reaching adulthood in 2008-2009 being convicted of at least one crime.
However, Mr MacAskill said the figures sent a stark warning to those still intent on offending. And he said tougher sentences would not only apply to weapons offences. He said: "For all other types of crimes, courts are also getting tougher with average sentences now at their highest level for more than a decade and that is to be welcomed. Serious and dangerous criminals can be left in no doubt that they will be punished and they will go to prison."