Restoration company fined £10,000 over lead paint poisoning
Several workers contracted illness which could affect their health for 25 years while working on estate of Dutch construction billionaire Dik Wessels.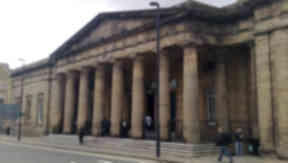 The company carrying out a massive restoration of a Scottish mansion for one of Europe's richest men has been fined £10,000 after workers were poisoned by lead paint.
Several foreign workers were found to have contracted lead poisoning which could affect their health for 25 years, while restoring the estate of Dutch construction billionaire Dik Wessels.
Ironically, the British workers were not affected because the quality of their work had not been as high as their foreign counterparts, a court was told on Tuesday.
Mr Wessels commissioned Aberfeldy-based Blairish Restorations to undertake an £800,000 programme to revamp historic Findynate House at Strathtay, Perthshire.
The construction magnate had bought the estate from former Northern Rock bank chairman Matt Ridley and found it had not been fully redecorated since 1908.
Fiscal depute Sally Clark told Perth Sheriff Court that workers on the project had not been told that the paint they were sanding down contained harmful lead.
She said those worst affected were the painters doing the most thorough job and these were the Hungarians, Moldovans, Poles and Romanians.
She said they had taken most pride in their work and had sanded down furthest, causing dangerous lead dust particles to fill the air in the baronial mansion.
Miss Clark said: "The high standard of workmanship and standard of finish, especially from the foreign workers, was commented on by the designer.
"A large amount of dust got into the workers bodies by inhalation and ingestion. Beyond the provision of ineffective dust masks there was no attempt to control it by Blairish."
Eventually, two of the men were hospitalised with abdominal pain and had to be treated with medication which flushed the lead particles out of their system.
A further five men were examined and found to have suffered lead poisoning and the entire project was brought to a halt as the area was cleared.
Blairish Restorations admitted failing to ensure staff were not exposed to risk from lead dust between March and August 2008 and as a result of the inhalation and ingestion seven people suffered injury to their health.
Solicitor Duncan Batchelor, defending, said the company and managing director James Woolnough were "horrified and mortified" by the damage caused to the workmen.
He said the offending lead-based paint had been present since 1908 as the house had potentially not been redecorated since then and the company had lost £36,000 as a result of the incident.
Sheriff William Gilchrist fined Blairish Restorations £10,000, and said: "Clearly there was a serious risk to the health and safety of others. There was a serious lapse. The consequence of that failure was serious for a number of staff."
Outside court, Health and Safety Executive Inspector, Gary Stimpson, said: "This case is important as it reminds primary contractors of their responsibility and duty of care to others working on the site."