Safety changes after Stockline factory blast
UK Government announces gas safety boost after the factory blast which killed nine people in Glasgow 2004.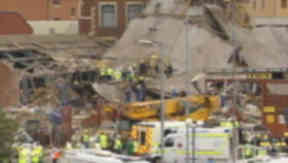 The UK Government announced measures to boost safety in the wake of the Stockline factory blast which killed nine people more than five years ago in Glasgow.
Work and Pensions Secretary Yvette Cooper announced the measures as the Government published its response to a report into the explosion at the ICL Plastics factory in Maryhill.
She said ministers were "determined to ensure that similar events do not happen in the future".
In his inquiry report, Lord Gill said the blast, in May 2004, was an "avoidable disaster".
On Thursday Ms Cooper said: "We are taking steps to strengthen gas safety on site in future."
The explosion, which left 33 people seriously injured, was caused by a build-up of leaking gas from corroded underground pipes which ignited.
Ms Cooper vowed: "All commercial buried metallic liquefied petroleum gas pipework will be replaced."
According to the Government response, experts at the Health and Safety Executive believe this measure will "substantially reduce the risk".
Work to replace these pipes with polyethylene models is already under way and it is hoped this will be completed in higher-risk premises by the end of 2013 and in all industrial and commercial properties by the end of 2015.
Ms Cooper spoke about other measures being taken, saying: "We will also take steps to raise awareness amongst LPG users of their responsibilities within the existing legislative framework and ensure they comply with safety standards, underpinned by appropriate enforcement activity."
She described the explosion as a "tragic and avoidable event" and said: "I would like to once again extend my condolences to the families and friends of those killed and injured in the factory explosion at ICL Plastics Ltd in Glasgow.
"I hope that the Government response goes some way to addressing the concerns of those who have suffered as a result of this tragic event, and reassures them that the Government is determined to ensure that similar events do not happen in the future."
The Scottish Trades Union Congress welcomed the Government response.
General Secretary Grahame Smith said: "The work already under way to replace buried piping will also significantly reduce the risk of another tragedy, although we should not lose sight of the fact that liquefied petroleum gas is no more dangerous than any other industrial process provided the risks are assessed properly and effective health and safety management practices are in place."
Mr Smith stated: "The STUC has supported the families of those killed in this tragedy, a tragedy that could easily have been avoided.
"It is commendable that, despite their own loss, the families have always made it clear that they are determined that no other families should face the pain and suffering that they have had to endure.
"I am sure that the families will welcome the comments regarding improved and more effective enforcement addressing a shortcoming in this particular case that the HSE have already acknowledged as falling short of their normal standards."