Fathers of Peter Tobin victims unite in grief
Scotsmen Ian McNicol and Michael Hamilton say they will be friends for life after suffering the tragedy caused by the serial killer.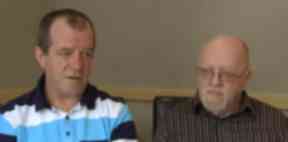 The fathers of two girls murdered by serial killer Peter Tobin have spoken to STV News about the friendship they have forged through the tragedy.
Ian McNicol and Michael Hamilton, who are both Scots, say they will be friends for the remainder of their lives following the death of their daughters in the same year.
They also say they now both want Tobin to live for as long as possible so that police might discover if he had any more victims.
Mr McNicol revealed how he felt a strong desire to meet Mr Hamilton after watching him slowly walking infront of Tobin's police van as he was ferried to court in 2007.
He said: "I saw Michael walking so slowly infront of that van and said I want to meet that man. That man has got strength of character."
Peter Tobin abducted and murdered Vicky Hamilton, from Falkirk, and Dinah McNicol, from Essex, in 1991. He buried them yards apart in the back garden of his home in Margate.
Sixteen years later their bodies were recovered and their killer brought to justice.
Mr McNicol added: "We are in a club that no one wants to join."
IN DETAIL
Speaking of their friendship Mr McNicol said: "He is in a better position than anyone else as he's been all through it and I can appreciate that."
Mr Hamilton revealed how they talk about their daughters all the time.
He said: "What could have been, what should have been, but what hasn't been."
Mr McNicol had been campaigning for the house in Margate, where the girls were found, to be demolished by the council. But the council refused putting more strain on the frail 71-year-old.
He revealed how Mr Hamilton convinced him that the campaign was not worth it and to get on with his life.
Mr Hamilton said: "There is no way on this earth this house is going to be knocked down. And I told him to get on with his life and be happy. I know where Vicky is and he knows where Dinah is, so just forget the house."
When Tobin was convicted of Dinah's death, her father had spoken out of his desire for him to hang for his crimes.
But again his friendship with Mr Hamilton has changed his view.
He said: "If he has killed anyone else then these families are going through what Michael and I went through.
"That is a very sad thing and I'd rather the police continue their investigations to help other people find their kids."
Police are now trying to find out his Tobin did have any other victims by finding out every little detail about his life. There is still big gaps in the picture they are building and are appealing to the public for their help.
They are still trying to discover what Tobin was doing in 1978.
Both men are now hoping the public can help police discover more about Tobin's past.
They said: "The police could dig more out of it. Something really simple could open another case."
They believe there is a lot of people still out there that have not come forward and could help."
The fathers now take comfort in the thought that Vicky and Dinah had each other when they were left dumped in the garden in Margate.