Row continues over Tory B&B gay ban comments
One Scots B&B owner has now backed Chris Grayling, saying he should have the right to turn away gay couples who want to share a bed.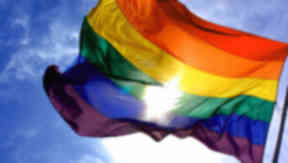 The Scottish bed and breakfast owner who hit the headlines after refusing to allow a gay couple to share a bed in his home has hit out amid a new row over whether he should have the right to turn away homosexual customers.
It comes as Shadow Home Secretary Chris Grayling faces calls for his sacking, after he said that B&Bs run by Christians should be allowed to turn away gay couples because of their sexuality. Mr Grayling said hotels should not be allowed to discriminate against homosexuals, but he suggested individuals should have the right to decide who stayed in their home.
Legislation which forbids the withholding of commercial services from people as a result of their sexuality was brought in in 2007, but was opposed by a Scots B&B owner who admitted he had turned away a gay couple who wanted to share a double bed and would not accept a twin room.
Tom Forrest has run the Cromasaig Bed and Breakfast at Kinlochewe for 17 years. He openly admits that he could fall foul of the law because he still will not allow gay couples to share a bed in his home. He insists gay men and lesbians are welcome to stay in his establishment's twin rooms, but says: "I will refuse point blank to allow them to share a double bed. I do not approve of the homosexual act and any act of intercourse should be between a man and a woman. It's nothing to do with the bible, it's to do with nature."
He added: "We're not running a business for corporate guests. We have people into our house, we have dinner with them, we learn about each other. Many become friends. Indeed, there are homosexual people who have become friends, who say they would not insult us by insisting on sharing a bed in our house and come in support of what we have done.
"I feel it's about time that people decided to live and let live. What you want to do under your own roof is your own business. What I want to happen under my own roof should also be my business."
However, Green MSP Patrick Harvie said: "This is not about what goes on under someone's roof. This is about a business owner telling people how they can behave, it's about saying what people he will provide a service to."
He added: "We don't reduce discrimination by ignoring it or making exceptions. We have made massive progress on reducing discrimination and that's happened because people have been willing to challenge it head on. To turn the clock back now would risk losing what has been achieved over the past decades."
Mr Forrest's comments came one day after a recording of Mr Grayling addressing the Centre for Policy Studies thinktank caused anger in the gay community.
Mr Grayling said: "I think we need to allow people to have their own consciences. I personally always took the view that, if you look at the case of should a Christian hotel owner have the right to exclude a gay couple from a hotel, I took the view that if it's a question of somebody who's doing a B&B in their own home, that individual should have the right to decide who does and who doesn't come into their own home.
"If they are running a hotel on the High Street, I really don't think that it is right in this day and age that a gay couple should walk into a hotel and be turned away because they are a gay couple, and I think that is where the dividing line comes."
Mr Forrest said Mr Grayling's standpoint was "common sense, adding: "I think he's quite right. He's absolutely correct. It's about time people in this country got their heads out of their backsides and said something about it, put their heads above the parapet."
Mr Forrest said he did not accept the argument that turning away gay people would be the same as turning away a customer on the grounds of their race or their religion, insisting: "It's a lifestyle choice at the end of the day. You're born black, you're born white, that's the way we are and that's perfectly natural. But being gay is nothing more than a lifestyle choice."
And he added: "I just want the law to allow me to say, I don't accept this in my home. If I had a pub, I could turn someone away. But the way the law stands at the moment, I can't do that in a bed and breakfast. That's wrong."
However, Mr Grayling's comments have sparked widespread anger elsewhere, with some activists calling for him to be sacked. Gay rights campaigner Peter Tatchell said Mr Grayling should apologise. He also said David Cameron needed to make his opinion on the row clear, adding: "David Cameron needs to clarify whether he agrees with Chris Grayling that B&B owners should have a right to turn away gay couples.
"Mr Cameron's silence is worrying. Many voters will be disturbed by his failure to swiftly disown Mr Grayling's support for anti-gay discrimination.
"It is not acceptable for the Tories to have a shadow home secretary who supports homophobic discrimination. Chris Grayling should be moved to a shadow post that does not involve equality issues."
Patrick Harvie echoed the call for clarity, saying Mr Grayling was saying one thing behind closed doors and another in public. He said: "This is not a party activist or a special advisor. This is the person who could be the next Home Secretary and could have responsibility for imposing this legislation. So I don't think it's acceptable for the Conservatives to be ambiguous on this. It's important that the leadership clarify the party's position.
"In simple terms, back him or sack him. You can't have this one both ways. They need to be clear on what their position is.
"It is unfair to those people who oppose the legislation, who agree with discriminating against certain groups, to give them the nod and the wink if the party has no intention to change the law. Equally, those who support the legislation need to know if the Conservatives do actually plan to change it."
A Conservative spokesman stressed Mr Grayling had made it "absolutely clear that in this day and age a gay couple should not be turned away from a hotel just because they are a gay couple".