Fat hedgehogs released following winter of weight watching
VIDEO: The creatures had become too chubby to roll into a ball, but a winter of weight watching means they are ready for the wild.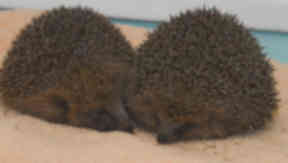 A prickle of hedgehogs who became too fat to roll into a ball have been released back into the wild, following a winter spent in fat camp.
The Scottish SPCA was forced to put the ten chubby creatures on a strict calorie controlled diet, after they gained weight as a result of spending a long cold winter in their enclosures. Staff at the charity feared they had become so fat, they would have been unable to protect themselves from predators.
However, following a winter of weight watching, the hedgehogs were able leave the charity's centre in Fife and set out on their own on Wednesday.
Scottish SPCA Wildlife Rescue Centre manager Colin Seddon said: "The hedgehogs first came in to our care last December, but they only started to show signs of piling on the pounds in late January.
"They have lost a bit of weight as a result of us rationing their daily cat food, but we've left them with some fat reserves because it looks as though we aren't out of the cold snap just yet."
**BACKGROUND
**
The hedgehogs were released into Pitlochry's Explorers Garden on Wednesday afternoon, where it is hoped they will go on to thrive independently. The garden's manager, Julia Corden, said she set out to adopt the hedgehogs the minute she heard about their battle with the bulge.
She said: "I was really moved by the news of these hedgehogs and got in touch with the centre to see if we could help. I was delighted when Colin got in touch to say they were to be released.
"They will find plenty of log and leaf piles to nest in, whilst living happily with their garden neighbours – red squirrels, pine martins and lots of bird life."
The story of the newly-svelte arrivals has also been welcomed by youngsters from the local Pitlochry High School, where each class hopes to adopt and name a hedgehog.
The SSPCA says it now has high hopes for the hogs, who are among around 80 released by the charity since the winter months.