Doctor injected MS sufferers with cow stem cells
Dr Robert Trossel was found guilty of abusing his position by exploiting vulnerable patients by claiming he could cure the condition.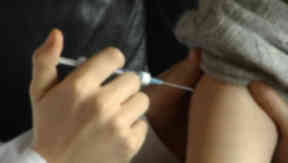 A doctor who claimed he could cure MS sufferers by injecting them with stem cells from cows has been found guilty of exploiting his vulnerable patients.
Dr Robert Trossel 'abused his position' when he subjected desperate clients to painful injections not designed for human use at a clinic in Holland, the General Medical Council (GMC) ruled.
Patients paid up to £12,000 for a series of quick jabs in consultations lasting less than two hours.
Dr Trossel, 55, told patients they were receiving umbilical cord stem cells but in many cases hid the fact that they were of animal origin and contained a risk of BSE.
A GMC panel found the Dutch-trained doctor had exaggerated the benefits of the treatment, could not accurately describe how the stem cells worked and overstated his success rate with MS sufferers.
His follow-up treatments with patients were also 'wholly unsatisfactory' and in two instances he had not used enough stem cells to herald any positive therapeutic effects.
The GMC ruled he had not acted in the best interests of seven patients and an undercover journalist, posing as a Hogkin's disease sufferer, who visited him for the 'pioneering' treatment between 2004 and 2006.
Trossel admitted using stem cells shipped from the United States by a lawyer and an ex-model on the run from the FBI.
IN DETAIL
Soon after becoming a licensee for US company Biomark to carry out the treatment at his PMC clinic in Rotterdam, Holland, Biomark began to be investigated by the FBI and FDA. Company directors Stephen Van Rooyen and Laura Brown fled to South Africa before criminal charges were filed against them in a court in Georgia in 2006.
But Trossel told his hearing he believed the couple had found an 'enormous scientific breakthrough' that was legal in Europe. He said: "It was definitely new knowledge; it was just the birth of it."
But the GMC ruled his treatment was 'unjustifiable on the basis of available scientific of clinical medical evidence'.
The medical regulator heard that none of those treated by Trossel showed any long-term improvement.
James McCorrisken, 50, from Clydebank, Scotland, told how he paid out £6,000 for 'cutting edge' stem cell therapy which did not work, while Trossel told MS sufferer Rebecca Parker, of Nuffield, Oxfordshire, the treatment would 'enable her to walk' and make her 'healthier.'
Karen Galley, from Cork in Ireland, was diagnosed with chronic secondary progressive MS in 1996. She had been using a wheelchair and paid some 12,000 Euros for the treatment believing it would help her walk again, but she saw no difference in her condition.
Ms Galley's friend Tracy Wagstaff was also left 'cheated and deeply upset' after forking out 12,500 Euros from sponsorship, including shaving her head, for the unsuccessful treatment.
GMC chairman Professor Brian Gomes Da Costa said Trossel had 'abused' his position in order to 'take advantage' of his patients.
The panel also stated that there was not sufficient scientific or medical evidence to justify proceeding with the stem cell therapy and that Dr Trossel exaggerated the benefits of the treatment.
Trossel, of Stoke Poges, Berkshire admitted various charges but continues to deny misconduct. He had received a five-month suspended prison sentence in a Belgium Court in February 2009 after failing to comply with Belgian law when carrying out stem cell treatments.
The PMC clinic stopped performing the stem cell treatment in 2007 when the Dutch government introduced new regulations. Another clinic in Cork, Ireland, was closed by the Irish Medical Board in 2006.
His case will now reconvene on September 6 for the panel to consider the issue of misconduct.