Health warning as volcanic ash covers Scotland
The public, particularly those suffering from respiratory conditions, are urged to stay indoors if suffering any symptoms.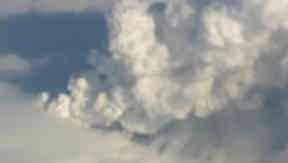 Health warnings have been issued this evening as ash from a volcano in Iceland begins to reach ground level.
The public, especially those suffering from existing conditions such as respiratory problems, are urged to stay indoors if they suffer any symptoms.
All airports in Scotland and the rest of the UK were closed on Thursday morning and are likely to remain shut until at least 1pm on Friday due to the risk to planes from the ash.
The ash, a mixture of tiny particles of rock, is likely to affect Scotland first on Thursday night and the rest of the UK overnight.
Symptoms include a runny nose, irritated eyes and a sore or dry throat. People may also notice a dusty haze in the air and the strong smell of sulphur or rotten eggs.
Health Protection Scotland, in conjunction with the Health Protection Agency and the Met Office, said those people with existing conditions must ensure they have their medication at hand.
In a statement they said: "Updated information on weather patterns in the UK now indicates that volcanic ash associated with the current eruption in Iceland will reach ground level over the UK, starting in Scotland this evening before moving south over the course of the night.
"Based on this, updated information for the public is given below by Health Protection Scotland, in conjunction with the Health Protection Agency and the Met Office.
"It is important to stress that the concentration of particles which does reach ground level is likely to be low and should not cause serious harm."
It added: "Those with existing respiratory conditions such as chronic bronchitis, emphysema and asthma may notice these effects more than others and should ensure they have any inhalers or other medications with them.
"Any such health effects are likely to be short term. Health Protection Scotland, the Health Protection Agency and the Met Office will continue to monitor the situation and issue any further advice or updates as necessary as the weather changes.
"Low concentrations of volcanic dust, which may contain low levels of sulphur dioxide, are also expected to ground with the plume, although this is not expected to be a significant threat to public health."
On Thursday evening there was already reports in Aberdeen, Lerwick and parts of Central Scotland of ash residues and a strong smell of sulphur in the air.