Trade Unionist and Socialist Coalition launches manifesto
TUSC is contesting 10 seats in Scotland in the forthcoming election.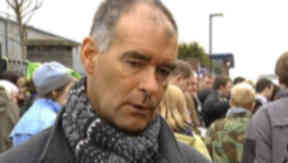 The Trade Unionist and Socialist Coalition (TUSC) launched its manifesto today in Dundee and immediately called for an end to privatisation and cuts in the public sector.
Speaking at the launch, transport union RMT's General Secretary Bob Crow said: "What is needed is an electoral alternative to the parties of big business. Every one of the main parties supports privatisation, a continuation of anti trade union laws and our involvement in illegal wars."
"They try to make out that there are differences between them however they are all the same. They offer a choice of savage cuts, vicious cuts or staggered cuts."
"TUSC offers something different, an alternative based on protecting jobs, wages and conditions and standing up for trade union rights."
The coalition party is fielding 42 candidates in the general election. Ten Scottish seats will be contested, although candidate for Glasgow South West Tommy Sheridan did not attend today's event due to family illness.
TUSC's policies include opposition to all cuts in public services, standing against the privatisation of Royal Mail and for the bringing of the privatised utilities back into public ownership. The party is also calling for tuition fees to be abolished and for the repeal of anti-union laws.
STUSC Candidate for Dundee West, Jim McFarlane said: "We want to provide an electoral alternative and challenge to the main parties. We don't want to let the SNP off the hook by saying that the cuts are caused by a "big boy who ran away.
"When they have been tested, as they have been in charge of councils across Scotland, they have failed and have voted through cuts. Why should we accept cuts that affect the vulnerable? Why should local authority workers who have shown that they can be flexible and efficient be forced to pay the price for a bail out of the banks?"
Socialist Party councillor and former Labour MP Dave Nellist added: "The other night the main party leaders spoke about choice. They spoke about the big choices, the tough choices and the real choices that a new government would face.
"The fact is that for ordinary people there is no choice. It doesn't matter who wins the election – the outcome will be the same cuts in public services and an attack on the pay and conditions or workers everywhere."
He continued: "The main parties already form a coalition – one to implement cuts in services and pay and an erosion of our communities. It is the lack of faith in mainstream politics that has led to a huge amount of disaffection with politics that in places leads to people turning to the far right BNP."
"We want to give those people an alternative."