Man cleared of weighing genitals at fruit and veg counter
Scotmid staff told court of their shock at the 'carry on' in the supermarket aisle.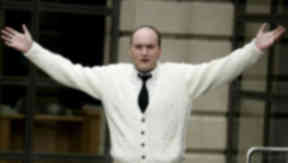 A man has walked free from court after being accused of weighing his genitals on fruit and vegetable scales in a supermarket in Edinburgh.
Scotmid staff said they were "too shocked to speak" after apparently seeing James Jones, 33, and another man exposing themselves in the store.
They claimed Mr Jones told them: "We were just trying to weigh our d***|s."
The father-of-three said he was drunk because he had just been paid, but denied the prank had taken place.
Following a four-hour trial, he was acquitted on Thursday at Edinburgh Sheriff Court.
Sheriff Neil MacKinnon said he was "unable to conclude that the precise act did take place" because only one eye-witness reported it.
Footage from a CCTV camera in the Moredun Park Road shop was shown in court.
Mr Jones was seen standing on a kick stool at a set of weighing scales, but had his back turned to the camera throughout the footage, leaving the sheriff without any corroborating evidence.
Speaking after the trial he said: "I don't even know if I'll ever go back in that shop. They will probably bar me from it anyway."
He admitted being drunk at 5pm in the Scotmid store on September 10.
Shop assistant Melanie Guglielmino, 31, told court: "I was pushing my trolley from the warehouse into the aisle and I saw two guys at the scales at the fruit and veg section.
"One of them said: "'We are just weighing our private parts'," but he used a different word.
 "I saw him putting it back in his trousers and closing his flies. I was too shocked to speak to any of them. I was really shocked that they said they wanted to weigh their private parts.
 "I was quite embarrassed and I'm still embarrassed to say anything about it. I thought he was actually a nice customer before this because I had seen him before and thought he was a friendly guy."
But on being grilled by Mr Jones' defence agent Chris Fehily, she admitted there was a possibility she was mistaken.
He told her: "You didn't actually see a penis though, it may have been his hand. He put something back in his trousers. It looked really not nice. I might be mistaken but I don't really think so."
Her manager Agnes Fagan, 45, showed the CCTV footage to police.
She said Mr Jones and another man were "having a carry on" in the fruit and veg aisle. I watched it closely and saw two men mucking about in the aisle.
"They got a stool and took it over to the scales and they looked like they had their penises out on the scales. They were giggling, they were laughing and having a pure carry on.
"It was quite disgusting if they were doing what it looked like they were doing. What if there had been a child or one of my members of staff?"
During police interview Mr Jones was asked: "Did you tell a member of staff, "I'm just seeing how much my d**k weighs"?"
He told police: "I stood on the stool p**sing about a bit, but I can't remember what I was doing. I never got it out. I have been framed."
His lawyer Mr Fehily added: "Nothing within the CCTV showed anything."
Clearing Mr Jones, Sheriff MacKinnon said: "The standard of proof is a high one but I am unable to conclude that the precise act did take place."