Scottish Leaders' Debate: Immigration and taxes
VIDEO: The four leaders debate how to incentivise people to work and contribute to the economy.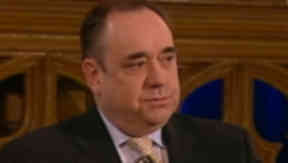 The first question the panellists faced was from an immigrant GP, who asked why there was little political support for immigrants who pay taxes and contribute to the country's economy.
Jim Murphy was first to reply, stating that in his view any working person should always be better off than someone on benefits.
He reiterated Labour's promise that workers will be at least £2,000 a year better off than non-workers if the party wins the election.
However, David Mundell said that, unlike Labour, the Conservatives are prepared to tackle the issue of people who don't want to work.
Alistair Carmichael said that one of the biggest problems was that low- and middle-income workers are expected to give a subsidy to high earners.
He told viewers that his party's plans to make the first £10,000 of every person's earnings tax-free would "put £700 in the pocket of everybody."
Alex Salmond agreed with the fact that for some people staying out of work meant they were better off, saying that changes to Council Tax and housing benefits would give people more incentive to get into work.
While the answers were mostly concerned with the general issue of employment and benefits rather than immigrant workers, Mr Salmond and Mr Murphy had a rare moment of agreement when both praised the benefits that immigration has bought to Scotland.
How the debate unfolded: