Chimps 'mourned' and 'comforted' dying ape
VIDEO: Film captures the animals at Blair Drummond Safari Park in the final days of the chimp's life.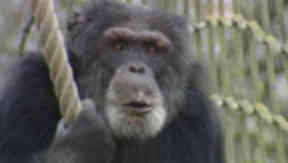 Dignity in death may be as important to chimpanzees as it is to humans, according to a new study of chimps in Stirlingshire.
Chimps at a wildlife park in Scotland have been filmed grooming and comforting a dying female member of their group in her final hours.
They also appeared to test for signs of life by checking if the elderly ape was breathing.
After the death there followed a period of "mourning", during which the chimps remained quiet and subdued and avoided the sleeping spot where the death occurred.
The extraordinary scenes were captured on video by staff at the Blair Drummond Safari and Adventure Park.
It is the first time anyone has closely observed the behaviour of chimps faced with a natural death. Previously, sudden traumatic death among adult chimps has been seen to provoke a noisy, frenzied response from group members.
The chimp who died, named Pansy, was one of a group of four at the Scottish wildlife park and thought to be aged in her 60s.
When she became terminally ill in December 2008, staff decided to film the end of her life and its impact on the other chimps.
The footage was taken to animal behaviour scientists at the University of Stirling, whose findings were published in the journal Current Biology.
Alasdair Gillies, head keeper of chimpanzees at the park and co-author of the paper, described what happened as Pansy neared her death.
He said: "She started to get really quite ill. Over a period of time she stopped eating and drinking. We had to separate her from the others.
"On the day she died she crawled across into her daughter's nest, which was an incredible feat considering she was close to death.
"I decided to let the other chimpanzees in so that they could be together and she could die with dignity. It felt like the right thing to do.
"What followed was incredible. It was one of the most moving experiences of my life. It looked like they were comforting her by grooming her intently."
Signs of life
Two of the chimpanzees bent down to Pansy's mouth and appeared to be testing for signs of life.
After her death, the other chimps left her side, but her adult daughter returned and remained by her mother all night. The keepers removed Pansy's body the next day.
Mr Gillies, who has worked at the park for eight years, added: "For weeks afterwards it was uncannily quiet in the enclosure and the chimpanzees' appetites diminished. They were clearly grieving.
"None of them slept on the platform where she died until at least a week later, despite her daughter using that platform as her nest before her mother died."
He added: "I think this video footage showed the chimpanzees were aware something strange and different was happening, but other research will have to be conducted to see how much they understood what was going on. We are just opening the debate."
Dr James Anderson, who led the University of Stirling researchers, said: "In general, we found several similarities between the chimpanzees' behaviour toward the dying female, and their behaviour after her death, and some reactions of humans when faced with the demise of an elderly group member or relative, even though chimpanzees do not have religious beliefs or rituals surrounding death."
A second study reported in the same journal described how researchers witnessed wild mother chimps in Bossou, Guinea, carrying the mummified remains of their dead infants.
The two baby chimps were killed by a flu-like epidemic that struck the chimp community.
Dr Dora Biro, from Oxford University, who led the research, said: "In each case our observations showed a remarkable response by chimpanzee mothers to the death of their infants: they continued to carry the corpses for weeks, even months, following death."