Campaign to save world's oldest clipper ship
The passenger ship City of Adelaide, which travelled between Australia and Britain, is lying in Irvine.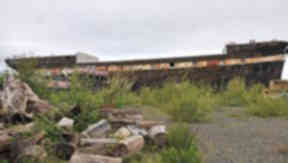 A campaign to save the world's oldest passenger clipper ship from being broken up was thrown a lifeline.
A firm has been appointed to review options for the future of the 145-year-old City of Adelaide, currently resting on a slipway in North Ayrshire.
The Sunderland-built ship, which predates the Cutty Sark, took people and wool between Australia and Britain on 28 round trips.
Later known as the Carrick, it has been left to the elements at Irvine and could still face deconstruction for display in a museum.
Campaigners are competing to re-float the vessel and take it to Australia or back to Sunderland.
Scottish Culture Minister Fiona Hyslop announced that Historic Scotland had commissioned a firm, DTZ, to review the category A-listed ship's options.
Ms Hyslop said: "The appointment of DTZ to carry out this review is a very positive step and will help us to determine the best outcome for the SV Carrick.
"There are several options to consider: whether the Carrick is moved to Sunderland, Adelaide in Australia or retained in a different location in Scotland. The alternative is a managed deconstruction of the vessel.
"Officials from Historic Scotland and the Scottish Government have held a wide range of discussions with a number of bodies and individuals regarding this category A-listed ship."
Organisations include the Scottish Maritime Museum, North Ayrshire Council and groups from Sunderland and Australia.
DTZ has appointed Sir Neil Cossons, the former director of the Maritime Museum in Greenwich and a former chairman of English Heritage, to provide technical expertise for the project.
Sunderland campaigner Peter Maddison, who hit the headlines last year by briefly "occupying" the clipper's ageing hulk, said: "Any lifeline thrown in the direction of our ship is to be welcomed.
"No-one in Scotland or England wants to live with the ignominy of standing by while the world's last passenger clipper ship is deliberately smashed up.
"It would also be a national disgrace if the grade one listed maritime treasure is abandoned to our friends abroad.
"We built the City of Adelaide in Sunderland in 1864 and we want her back home."
Mr Maddison, a Sunderland city councillor, said the ship would "reignite pride" and provide jobs through restoration.