US newspaper blames Old Firm tensions for Ibrox disaster
The tragedy, which killed 66 Rangers fans in 1971, was the result of tensions between fans, suggested the Boston Globe.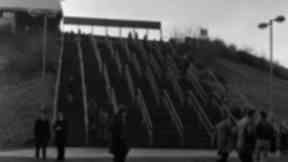 **A US newspaper has issued an apology after blaming the Ibrox disaster in 1971 on tensions between Old Firm supporters. **
The Boston Globe ran an article on Tuesday arguing why Rangers and Celtic should not be allowed to hold a pre-season fixture in the city at Fenway Park, home of baseball club Boston Red Sox.
The author lists a number of flashpoints involving Rangers support both at home and abroad, including the riots in Manchester after the 2008 Uefa Cup final and trouble in the club's away visit to Unirea Urziceni in Bucharest last year.
But the biggest outcry came from claims made about the match 39 years ago.
Sixty-six Rangers fans died after the derby match 39 years ago, which was caused by a single fan falling at the foot of the stadium's former stairway 13.
The article says: "Most notably, disaster struck at Rangers' Ibrox Stadium in 1971 following a crush-barrier failure. But it is widely accepted that the tensions between Celtic and Rangers fans played a major part in the 66 deaths that day (many of whom were children)."
There has never been a suggestion in Scotland that that the tragedy was anything other than an accident.
Some Rangers fans are now calling for their club to end any plans to play the first non-Old Firm derby outside of Scotland in Boston, instead pursuing reported options for the game to played in either Washington DC or Toronto.
Eyewitness
Ian Loch was one Rangers supporter who was caught up in the disaster on January 2 1971. A child at the time, he managed to pull himself clear of the crush by lifting himself above the heads of other fans trapped.
He said: "As we were getting nearer stairway 13, it was pretty tight. Before we knew it, you came out the end of the walkway and we were facing down the stairs and that's when it seemed to happen.
"Someone must have fell a fair bit down the stairs and then it was just like a pack of cards. These guys that had come from where I came from were pushing and those that had come up from the terracing were pushing. Nobody knows what's in front of them. Then, before you know it, the disaster was happening.
"The railing supports were going and the pressure was getting intense. You were gasping for breath, you kept looking for air and my legs were gone, they were wrapped round somebody behind me.
"You heard the people shouting 'get back, get back', but then it went silent because nobody could shout. Everything was getting squeezed from you, the air was getting squeezed out your lungs. I still had my arms up, thankfully, and that helped as a lever to me because I was about 6ft away from the railway sleepers down the side of the stairway.
"By that time, I was probably level with the sleepers which were about 6ft in height. There was a bit of give, my shoes were gone by this time, and I managed to climb myself above and out of the pack and I crawled over people at the height of the pillars and fell down the glass slopes."
Rangers chief executive Martin Bain described the article as "inaccurate and offensive" and confirmed the club would issue a formal complaint.
In their apology the newspaper said: "In reference to the article entitled 'Celtic-Rangers game should be held at Gillette, not Fenway' of April 28, I wish to convey my most sincere apologies for any distress caused to fans of Glasgow Rangers or Glasgow Celtic, or others, many of whom have written to comment."
IN DETAIL