Road death driver avoids jail term
Stephen McKay, pictured, killed cyclist Brian Taylor while speeding on the wrong side of the road.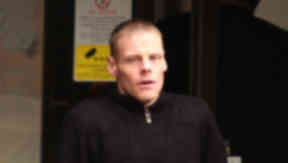 A thug who sped along the wrong side of a dangerous road, smashing into and killing a cyclist, avoided a jail sentence on Tuesday.
Bridie maker Brian Taylor, 29, was cycling to his work in the early hours of the morning when Stephen McKay ploughed his silver Rover 400 car into him.
Mr Taylor, a father of one with a young daughter, was thrown from his bike and was so severely injured that he died at the scene.
McKay, a 35-year-old plumber, told cops that the cyclist didn't have his lights on, but investigators later found skid marks which suggested McKay had been on the wrong side of the road and lost control.
At Dunfermline Sheriff Court, Sheriff Craig McSherry sentenced McKay to 240 hours community service and banned him from driving for 12 months.
In a separate case heard minutes later he fined McKay £260 after hearing that he had offered to smash a customer with a three-foot steel toby key - an implement usually used for turning on and off household water mains in the street - when the man questioned his workmanship.
McKay, of Russell Place, Touch, Dunfermline, pleaded guilty at an earlier hearing to causing Mr Taylor's death by careless driving, and causing a breach of the peace by threatening the customer with the water key. He also admitted breach of bail, and failing to turn up at an earlier hearing, for which he was fined a further £60.
Sheriff McSherry told McKay: "Had you been driving at a reckless speed you would be facing a charge of reckless driving. This quite obviously had a terrible outcome for the family of the accused, but in saying that, I do not believe the level of carelessness is substantial enough to merit a sentence of imprisonment."
Mr Taylor was on his way to his work at Dunfermline-based steak bridie makers Stephen's Bakery when the fatal collision occurred, at 12.55am on the notorious Grange Road, Dunfermline.
Louise Ward, prosecuting, said post-accident analysis showed McKay had been doing up to 60 miles per hour mph on the twisting unclassified road, which has a limit of 40.
His Rover hit Mr Taylor on a double bend, "propelling him onto the grass verge on the side of the road".
McKay sat motionless in his car with his headlights and hazard lights on, before approaching a passer-by in what was described as "a panicked state", saying: "I have just hit somebody. I think I have killed him."
Accident investigators found tyre marks and skid marks which indicated that McKay had in fact been driving on the wrong side of the road, and had lost control. The incident happened on November 15 2008.
A postmortem later established Mr Taylor had suffered multiple fractures to his skull, legs, and ribs, and blunt force trauma causing "brain injuries consistent with being hit by a vehicle travelling between 50 and 60 mph."