Praise for Ninewells coronary service
70-year-old heart attack sufferer back on his bike just weeks after attack - thanks to hospital's coronary angioplasty service.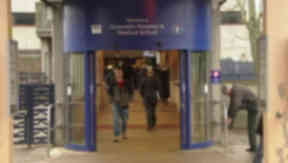 A Fife man who lost his father to a heart attack has praised the 24/7 coronary angioplasty service at Ninewells Hospital in Dundee for saving his life.
George White, 70, from Auchtermuchty, was constantly worried that he would have a heart attack - and believed it was only a matter of time before he would fall victim himself.
And he was right - he awoke at 6am one Saturday morning with tightening pains in his chest, shortness of breath and knew it was likely he was having a heart attack and his wife phoned for an ambulance.
Paramedics rushed to George's home and he was taken to Ninewells Hospital for an emergency angioplasty procedure.
Angioplasty is a procedure to increase blood flow to the heart muscle by stretching open narrowed arteries with balloons and supporting the stretched artery with tubular scaffolding "stents".
George said: "I was extremely worried as my father had died of a heart attack while in an ambulance on the way to hospital when I was 15 and he was 50, and other members of my family had also passed away after suffering heart attacks.
"However, the whole process of being taken out of my house in a stretcher to receiving treatment at the cath lab at Ninewells was seamless, which offered me great assurances that the service I was receiving was of the highest standard.
"During the procedure I was given a local anaesthetic, and a catheter was inserted into my wrist that fed into an artery in my heart.
"Consultant Dr John Irving carried out my procedure and, afterwards, he showed me real time video footage of the operation and exactly what they needed to do to identify and remove the blockage."
George's treatment involved using a catheter, which was guided to the heart with X-rays and allowed injection of contrast dye to show the coronary arteries. A balloon was then inserted and inflated to open the blockage. His artery is now held open permanently by placement of a stent.
George praised the staff at the cath lab and said: "I was very impressed by the professionalism, morale and extremely caring nature of all of the nurses and doctors who attended to me."
From the cath lab, George went on to the cardiology ward to recover for a couple of days.  He added: "I was equally impressed with the ward staff - they were marvellous.  The fact that I was able to return home after only a couple of days to recover was fantastic.
"This 24/7 service will hugely benefit patients as they no longer need to travel as far, at a very traumatic time."
Consultant Cardiologist Dr John Irving said, "We planned this new service very carefully - and it has been personally very rewarding to meet some of the people who benefit from our new way of working."