Oil disaster should be a 'wake-up call' for North Sea
Similar disaster to that in the Gulf of Mexico not ruled out as both companies involved in catastrophe operate in the North Sea.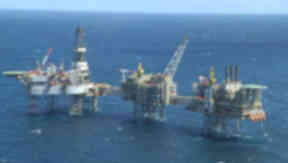 The North Sea oil industry is closely monitoring efforts to stem the major pollution disaster in the gulf of Mexico.
BP engineers grappling with the massive leak are attempting to use underwater robots to prevent the flow of oil after the explosion on a drilling rig.
Now companies in the North sea are looking to see if lessons can be learned here.
As each day passes the impact of the explosion and collapse of the Deepwater Horizon rig in the Gulf of Mexico worsens. Attention is now focused on the environmental fall out as the well head continues to release millions of gallons of oil into the sea.
Oil giant BP is heading the clean-up and containment operation, but the rig was owned by Transocean. Both companies operate in the North Sea.
It's 22 years since the Piper Alpha tragedy which killed 167, earning itself a grim place in the history books as the worlds worst offshore disaster. Experts say the health and safety lessons have been learnt.
Robert Paterson from Oil & Gas UK said: "The regime that we have over here was set up in the years after Piper Alpha and they were rigorously looked at to ensure the highest standards of safety operating in the North Sea."  
But critics warn similar rig equipment is in use in the North Sea and without more information as to what caused the US disaster, the possibility of it happening here can't be ruled out.
Jake Molloy, from the RMT Union said: "If as we suspect there has been equipment failure, then who's to say it couldn't happen here. You can have the most stringent regulatory regime in the world but if the equipment fails, it fails."
The potential harm such a spill could have in the North Sea is enormous. Most at risk is the vast marine and bird populations that inhabit the coastlines of the North East.
Hundreds of birds died as a result of the Braer oil spill when a tanker ran aground off the Shetland coast in January 1993.  The spill caused little lasting damage to the environment, but environmentalists say that's no excuse for complacency.
Sarah Dolman from the Whale & Dolphin Society said: "Whilst there are contingency plans in place to prevent oil spills, we don't feel they go far enough. This is a wake-up call and it's time to review those plans now."
As the oil slick continues to threaten the US coastline - the pressure is on to find out what caused the leak and ensure it never happens again.