Missing woman search goes online
VIDEO: Friends of Suzanne Pilley who mysteriously disappeared last Tuesday have set up a Facebook page in a fresh appeal for information.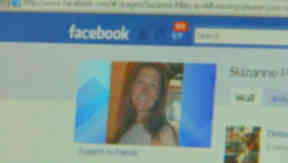 The hunt for office worker Suzanne Pilley who went missing in Edinburgh city centre has moved online after friends launched a Facebook page dedicated to the search.
Lothian and Borders Police officers have made highly publicised appeals as they try to work out what happened to the 38-year-old.
The last recorded sighting of her was captured by CCTV on North St David Street at 8.55am last Tuesday.
She was on her way to work in Thistle Street and appeared to be following her normal routine before vanishing around 100 metres from her destination.
Police have said they are "gravely concerned" for her safety and fear she may be the victim of crime.
Detective Chief Inspector Gary Flannigan, who is leading the investigation, said: "We are keen to ensure as many people as possible are aware of Suzanne's disappearance, so having a presence on an online social networking site is a highly effective way of achieving this.
"We are very grateful to Suzanne's friends who have set up the site which is a useful addition to the ongoing inquiry.
"As a force, we are always looking for new and innovative ways to engage with the public, and exploit new technology in doing so.
"The inquiry is progressing, but the painstaking examination of CCTV footage is a laborious, but crucial, part of the investigation.
"As a result, we are still keen to hear from people who may have seen Suzanne since her last sighting on North St David Street."
In a direct appeal to anyone who may have seen her the day she went missing, he added: "Suzanne walked through Thistle Street on her way to work every morning, so she is probably a familiar figure and people might not have noticed she was there.
"If anyone is in any doubt about whether they saw Suzanne on this day or another day, it is vital they come forward as we have methods of helping clarify this."
Miss Pilley is described as being white, 5ft 4ins tall, of slim build with short, light brown hair shaped into a bob.
She was wearing a light blue waterproof jacket, red fleece zipped to the neck, light blue trousers or jeans and trainers. She was also carrying a shoulder bag and a large water bottle.
Any subscriber to the social networking site can access the page by searching for her name at www.facebook.com.
Anyone with information is asked to contact police on 0131 311 3131 or anonymously through Crimestoppers on 0800 555 111.
BACKGROUND