Scots drugs gang jailed
Seven men - including five Scots - handed a total of 106 years in prison for major international drugs and firearms conspiracy.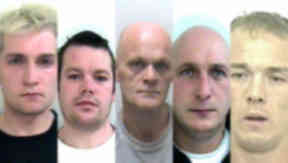 Seven men, including five Scots, have been jailed for a total of 106 years for their part in a major drugs and firearms conspiracy spanning the UK, Europe and South America.
Martin Graham, of Methil, Fife, Edward McIntosh and Lucasz Litwinski, of Arbroath, Angus, James Boyle, of Kirkcaldy, and Leslie Graham of Dundee appeared at Liverpool Crown Court for sentence on Tuesday.
They, along with Karol Siejda and Jason Bowley, had previously pleaded guilty to drugs offences in relation to Lancashire Constabulary's Operation Greengage.
Officers from the force's Serious and Organised Crime Unit began the operation in November 2006, the main subject of which at this time was Ivan Hue, of Robin Street, Preston.  
The investigation identified that Hue was using a network of couriers, which included close family members and friends, to transport funds to Amsterdam to pay for controlled drugs that would be subsequently imported into the UK.
They imported 35 kilograms of cocaine will would have had a wholesale value of £1,750,000 to £1,925,000. This would then be cut to street level cocaine with a total value of £9,800,000.
Officers identified four Fiat Multipla's that Hue's group had purchased in late 2006 in the north of England and Arbroath in Scotland.
AMSTERDAM
Using these vehicles, numerous trips were made between the UK and Amsterdam, with money being exchanged at both ends. Drugs and firearms were being smuggled into the UK via the specially modified Multiplas.
As the investigation progressed, an extensive organised crime group operating across England, Scotland and Europe was identified. It became apparent that an Organised Crime Group within Scotland was already being investigated by the Scottish Crime and Drugs Enforcement Agency.
Their investigation was focused on Edward McIntosh and Michael Hailwood who were involved in the importation of cocaine into the UK using predominantly Eastern European men who were flying into the UK with drugs stored internally.
The investigation identified that the couriers were travelling by air to Edinburgh and Aberdeen Airports where they would be collected on arrival and taken to houses or hotels in the Arbroath, Dundee and Fife area.
There could be as many as three people on any one flight. These couriers were accompanied personally by Michael Hailwood, Leslie Graham or other trusted associates to supervise the couriers during the flights.
It is known that couriers have also used Liverpool, Manchester, Leeds/Bradford, Heathrow, Gatwick and Luton airports to deliver commodities to the UK for onward supply into England and Scotland. Various ports within the UK were also used by the crime group.
Detective Superintendent Steve Mounsey, who worked in the Serious and Organised Crime Unit at the time of the operation, said: "Today's sentences reflect the very serious nature of these crimes and, quite rightly, these people will now be spending a very long time behind bars.
"Operation Greengage has been an incredibly complex and protracted investigation and required many hours of hard work from the investigation team. As a result of that hard work, a large, sophisticated crime group, spanning the UK and mainland Europe, has been dismantled, preventing untold quantities of drugs and firearms being brought into Lancashire and prevented inevitable harm to local and wider UK communities."
Detective Chief Superintendent Allan Moffat, Head of Investigations Group at the Scottish Crime and Drug Enforcement Agency (SCDEA), added: "These criminals are now where they belong – firmly behind bars serving much-deserved jail terms.
"They were responsible for trafficking illegal drugs into communities across the UK, using a variety of methods and routes to conceal their activity from law enforcement.  The possession of firearms provides an indication of the callous and violent nature of these individuals and their blatant disregard for public safety.
"We welcome today's sentences – not only does their incarceration provide some respite to the communities affected by their criminality, but it sends a very strong message to other criminal gangs that law enforcement will track them down. The successful conclusion of this investigation illustrates the benefits of intelligence-led policing and collaboration."