Glasgow man hunted by Interpol in Mossad murder probe
VIDEO: International manhunt for Christopher Lockwood launched after he is named as suspect in assassination of Hamas leader.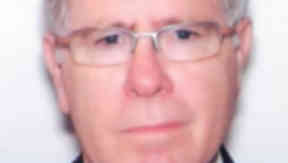 Interpol are searching for a Scottish man who is suspected of being part of an Israeli secret service hit squad who murdered a Hamas leader.
Christopher Lockwood, 62, is the 33rd person named in connection with the death of Mahmoud al-Mabhouh in a Dubai hotel room in January.
Police in the United Arab Emirates issued an arrest warrant on Monday for Lockwood, who was born in Glasgow.
Lockwood is believed to be the only one of the 33 men named so far to have used his genuine passport - and the arrest warrant could represent a major breakthrough in the case.  The other men are thought to have used false identities.
His details and photograph have been posted on Interpol's website - which states he is wanted for "crimes against life and health".
Police in Scotland have been helping Interpol and an investigating team from Dubai in the hunt for Lockwood. It is believed that he is not in Britain, but may be travelling within Europe.
However, the General Register Office in Edinburgh has no record of a Christopher Lockwood being born on February 23 1948 in Glasgow or anywhere else in Scotland.  In fact it has no record of a Christopher Lockwood being born in Scotland in the five years before or after 1948.
A spokeswoman for the Foreign Office said: "This is part of an ongoing Emirati investigation into the killing. The UK continues to provide assistance to the Emiratis in their investigation."
MOSSAD
Officials in Dubai are convinced Israel's intelligence service Mossad were behind the killing of Mabhouh - who founded Hamas's military wing.
He had been tracked by his killers from Damascus to Dubai and was en-route to Bangkok when he arrived there.
It has been suggested that he was in Dubai to buy weapons for his Palestinian Islamist movement.  He was believed to be using five different passports to mask his movements and identity.
He checked into the Al Bustan Rotana hotel at around 3pm on January 19.  Two of the murder suspects followed him to his room, then checked into the room opposite.
At 8pm Mabhouh left the hotel and four suspects entered his room using an electronic device and waited for his return.
It is thought he was suffocated with a pillow after being given a paralysing muscle relaxant.
Of the 11 original suspects, six were using UK passports, with individuals supposedly sharing citizenship with Israel.