Scots protest over Palestinian aid convoy killings
Hundreds take to streets after up to 19 people were killed when Israeli commandos boarded ships carrying aid to Gaza from Cyprus.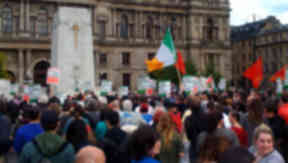 Hundreds of Scots have taken to the streets to protest after a Gaza-bound flotilla of ships was intercepted by Israeli troops, resulting in the deaths of up to 19 people.
Israeli commandos boarded ships carrying 10,000 tonnes of aid en route from Cyprus early on Monday morning. It is understood at least three Scots were onboard the Gaza-bound aid ships. A further 50 people were injured in the dawn raid on the Turkish Mavi Marmara ship by Israeli Navy ships in international waters, 80 miles off the coast of Gaza.
Demonstrations began simultaneously at 5pm on Monday in Aberdeen, Dundee, Edinburgh, Glasgow, Inverness, Moffat and Banff, with hundreds reportedly on the streets in a number of the cities. There were also heated scenes at a demonstration in central London.
Deputy First Minister Nicola Sturgeon expressed her "deep sadness" at the loss of life upon the peace flotilla. She added: "My primary concern is for the safety of the Scots that are on board. The Israeli Government must provide immediate reassurance of their current situation and wellbeing.
"This use of violence against a humanitarian convoy carrying medicine and other aid is being rightly condemned across the world and demonstrates the increasing need for Israel to lift the blockade. She continued: "The blockade of Gaza is causing untold suffering to ordinary Palestinians who want to go about their everyday lives in peace and must be brought to an end."
Ms Sturgeon was speaking after the father of a Glaswegian man who was on the flotilla spoke of his fears for his son's safety Haq Ghani, whose son Hassan, a journalist with Press TV, was on the flotilla, said he was "desperately" waiting to hear news from his son.
Mr Ghani said: "I am extremely angry, dismayed and shocked upon hearing about the deplorable loss of life upon the peace flotilla. On a personal note, my family and I are fraught with worry for our son." He also said that his son's last Facebook post mentioned Israeli ships were spotted on the radar. The family have not heard from him since. He added that he had contacted the Foreign and Commonwealth Office, but they have not heard any more information from the Israeli Government.
Ali El-Awasi, from Dundee, is also aboard one of the flotilla. His family are also desperate to hear from him.
Obvious distress
Glasgow MSP Sandra White told how she was contacted by one passenger, Theresa McDermott, a Scots activist with the Free Gaza group, on Monday morning who was "in obvious distress, as it was being attacked". But she added that the connection was lost and said: "I still do not know the fate of that passenger."
Ms White, an SNP MSP, said: "The fact that these attacks were perpetrated in international waters in contravention of established international maritime laws makes them indefensible."
Ms White later told how she had received a text message at 5am which simply said: "Flotilla attacked, 10 dead." The message had been sent on behalf of Edinburgh woman Theresa McDermott, who is on one of the boats in the flotilla. Ms White said since then she has been trying desperately to get in touch with Ms McDermott but without success.
Ms White said: "I haven't heard anything from her. It was early in the morning when I got the message, and I didn't know what was happening. But it is very worrying. I just hope she is all right."
Ms White recalled how she had travelled on the smaller aid flotilla to Gaza in 2009 and said she had recently been asked to make a return trip. She said: "If it hadn't been for parliamentary business here, I could have been on board that flotilla,"
A spokesperson for the Scottish Palestine Solidarity Campaign said at least two of the 700 activists onboard the flotilla left from Scotland. They were Ali Awasi, 21, who was born in Gaza, but has lived in Dundee since he was two and was hoping to visit his family in Gaza for the first time via the aid convoy, the spokesperson said. The other Scot known to be onboard is Edinburgh postal worker Theresa McDermot, 43. The SPSC say no information is known about their wellbeing at this time.
Alison Phillips, secretary of the Scottish Palestinian Forum, has written to both Foreign Secretary William Hague and Scottish First Minister Alex Salmond, urging the Israeli ambassador to the UK be summoned to the Foreign Office to explain the situation.
"Like many people, I look to both the Westminster and Scottish Parliaments to help produce a remedy for the suffering of the people of Gaza and to counter the very serious threat to peace in the Middle East," he said.
Palestinian rights group Friends of Al-Aqsa said that 28 British citizens were travelling on the ships, including its chairman Ismail Patel. Eight Irish citizens were also onboard.
Deplored
Earlier on Monday the Foreign Secretary William Hague "deplored" the loss of life during the incident and was in "urgent contact" with the Israeli government.
Anas Sarwar, the recently elected MP for Glasgow Central, said he was "shocked and deeply saddened by the deaths of more than 10 peaceful civilians and the wounding of 30 others who were attempting to bring vital aid to Gaza".
The Labour politician added: "Such an aggressive action against a vessel which had British citizens on board was disproportionate and unnecessary. I strongly condemn Israel's decision to send commandos to board boats carrying innocent people attempting to bring food and medical supplies to a stricken state."
Jim Hume, a Liberal Democrat MSP for the South of Scotland, called for an immediate inquiry into events. Mr Hume told how he had been on a similar mission last year and had been asked to take part in the flotilla that was attacked. But he said delays and changes to the schedule had prevented him from taking part.
Mr Hume said: "I am no terrorist. I have only an interest in helping people where they need help - that's why I was supposed to be on the flotilla. He added: "My thoughts go out to those killed and hurt in the flotilla, as I believe that the people on those boats are of a similar mind to me.
"This was not an episode of gun-running into Gaza but was an aid mission with humanitarian purposes. The only crime that the flotilla could be accused of is wishing to raise the profile of the Gaza Strip, and highlighting the fact that the UN itself claims that at this moment only 25% of goods needed is now getting in to Gaza.
"In my view this is not sufficient a reason for Israel to come into international waters, board these boats and use such force on a humanitarian mission."
Israeli military spokeswoman Lt. Col. Avital Leibovitch claimed his soldiers were attacked by the activists when they boarded the ships.
He said: "This group was dead-set on confrontation. Our soldiers were injured from these knives and sharp metal objects ... as well as from live fire." Two of the dead activists had fired at soldiers with pistols, the army added.