Dundee team finds new treatment for angina
VIDEO: A gout-prevention drug in use for more than four decades has been found to alleviate chest pains.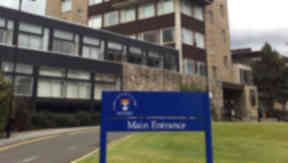 A drug which has been used to prevent gout for more than 40 years has now been shown to be an effective treatment for angina, research at the University of Dundee has found.
The Dundee team found that angina sufferers who were given the drug allopurinol were able to exercise longer and harder before they experienced the chest pain that occurs when the heart is short of oxygen.
The resulting paper, which is published in this month's edition of The Lancet, shows that the drug displayed considerable promise as an inexpensive, effective and safe treatment which may one day reduce the need for angioplasty, surgery and hospital admissions.
The team was led by Allan Struthers, Professor of Cardiovascular Medicine at the University's Centre for Cardiovascular & Lung Biology.
He said the paper represented an exciting piece of research which he hoped would be able to increase the quality of life for angina sufferers.
"What we found will surprise most people is that a drug that's used to treat gout is able to make people with angina walk a lot further before they get chest pain. That's because it appears to protect the heart against oxygen deficiency."
Allopurinol is commonly used to prevent the build up of uric acid crystals, which cause gout.
The study, funded by the British Heart Foundation, showed that, in a double-blind randomised trial, angina sufferers who received allopurinol treatment as opposed to placebo were able to walk for 25 per cent longer before they complained of chest pain and before the heart monitor detected oxygen deprivation.
The study looked at 65 patients with chronic angina from the Tayside area. They were asked to exercise on a treadmill whilst hooked up to an ECG monitor. Measurements were made of the point at which the subjects got chest pain.
The patients were then randomised to a period of treatment with allopurinol and a period of treatment with placebo. This showed that patients were able to walk 25% further before experiencing chest pain and before showing signs of coronary oxygen deprivation when receiving allopurinol.