St Andrews scientists develop 'artificial nose' laser for roadside bombs
Physicists at the university say the technology could save dozens of lives every year in war zones like Afghanistan.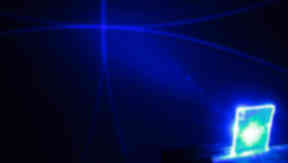 Scientists at St Andrews University have developed a laser that could "sniff out" roadside landmines and bombs like "an artificial nose for a robot dog".
Physicists at the university say the technology - which would also be used to tighten airport security - could save dozens of lives every year in countries like Afghanistan where British soldiers and thousands of civilians have been killed or injured by homemade bombs.
The low-cost lasers work by tracing tell-tale vapours emitted from explosives such as TNT. It would be built into a remotely-controlled robotic "sniffer dog" and sent into minefields, looking for vapour clouds.
Once fully developed, the scientists say the artificial nose will be able to sniff out vapours at "extremely low concentrations" -- enabling its "handler" to detect landmines, roadside bombs and other hidden explosives which emit dilute hidden clouds of vapour into the air.
Dr Graham Turnbull, who led the research, said on Wednesday that the laser was created using a thin film of polyfluorene - a special kind of light-emitting plastic.
When the laser comes in to contact with even the tiniest emission of vapour from an explosive such as TNT, its light dims within seconds. The laser sensor can be reset by a blast of nitrogen gas.
Dr Turnbull said: "Floating above a landmine in Iraq or Afghanistan, there's a very weak, dilute cloud of vapours of explosive molecules that the bomb is made from.
"We have shown that our lasers can rapidly sense these TNT-like molecules, frequently used in explosives, at extremely low concentrations.
"On a dusty road in Afghanistan there are relatively few things that might affect the laser output and it certainly could have potential in that area. Essentially it's making an artificial nose for a robot sniffer dog."
The researchers, who included St Andrews Drs Ying Yang and Ifor Samuel, believe the technology has an advantage over existing methods because of the relatively low-cost of the plastic, polyfluorene, which is widely used in plastic electronics.
The new research, published this week in the journal Advanced Functional Materials, comes just days after the widow of a highly trained member of the military's elite bomb disposal unit spoke out on the pressures faced by the expert team.
Staff Sgt Olaf "Oz" Schmid, 30, died while attempting to defuse a bomb in Afghanistan in October.
Christina Schmid said her husband had told her just days before he died that the dangerous task of defusing the home-made improvised explosive devices (IEDs) that litter Afghanistan was "relentless and overwhelming".
In 2008, the threats from IEDs grew by 400%. In 2009, the threat rose another 400%. In Helmand alone, where most of Britain's forces are based, 450 IEDs are triggered or made safe each month - 14 every day.