Two Fife sites bid for World Heritage Status
VIDEO: Councillors want to see St Andrews and the Forth Rail Bridge included on the prestigious UNESCO list.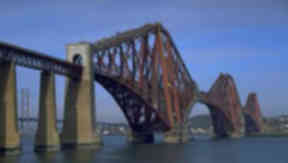 The Forth Rail Bridge is to be nominated as a World Heritage Site, along with the 'home of golf', St Andrews.
Councillors in Fife have decided to nominate both for inclusion on UNESCO's Tentative List, the first stage in the process of receiving full World Heritage status. The opportunity to apply is opened to authorities just once every ten years, and Depute Council Leader Elizabeth Riches said she was delighted councillors had voted to push ahead in 2010.
She said: "It's fantastic and absolutely right that we make these applications. It just goes to show what an extremely special place Fife is when we can apply to have two sites considered.
"Inscription as a UNESCO World Heritage Site is an acknowledgement of the truly global significance of such places. It would be an honour and a privilege for Fife to gain this accolade and could potentially bring real social and economic benefits. However the recognition does carry certain responsibilities to protect and preserve the sites properly for future generations – something that the council already takes very seriously."
Council Leader Peter Grant, added: "The Forth Bridge represents the pinnacle of nineteenth century Scottish engineering. It was one of the wonders of the modern world when it was built and remains one of the most instantly recognisable structures in the world.
"We are extremely lucky in Fife to have such an iconic gateway to welcome thousands of visitors and homecoming residents into the Kingdom. I'm sure the people of Fife will fully support its inclusion as a World Heritage Site."
Just 890 sites across the globe have achieved Heritage status, 28 of which are on British soil. Edinburgh's Old and New Town's are among those honoured, gaining the title in 1996, and Edinburgh City Council has now backed both of Fife's bids, saying the recognition brings huge benefits.
While there is no Government funding for the management of World Heritage sites Edinburgh City Council currently receives a significant annual contribution from Historic Scotland. Officials also believe inclusion on the list brings millions of pounds in increased tourism revenue.
Councillor Riches added: "Edinburgh's example shows that there are ways of attracting funding to help with the costs of managing such sites. However, it's widely recognised that the potential benefits to Fife far outweigh any issues with cost.
"St Andrews' case for success is also strong. The home of golf and Scotland's oldest University, arguably Scotland's most important religious centre and the country's best preserved medieval burgh, St Andrews deserves this accolade.
"And, far from restricting new development in the town, World Heritage status would simply help the council to ensure that all new development in the burgh is of the highest standard."