Blood-soaked 16-year-old who attacked medic escapes jail
Teenager 'was too drunk to remember' assaulting paramedics called to house party.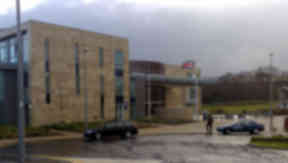 A 16-year-old girl who launched a vicious attack on a paramedic who was trying to treat her narrowly escaped being sent to prison yesterday.
Blood-covered Samantha Cowie violently lashed out at emergency health service worker Lorraine Cicalese and kicked her on the body.
The attack happened after dozens of police officers, dog handlers, ambulance staff and paramedics attended a drunken incident in West Lothian. The underage teenager was so inebriated after a full day's drinking that she remembered nothing of the attack later, Livingston Sheriff Court heard.
But her lawyer said she had learned her lessson after being locked up in the cells for more than 12 hours and had given up drinking.
Cowie, 16, pled guilty to assaulting the paramedic by kicking her on the body to her injury. The attack happened at a house in Barton Terrace in Fauldhouse, West Lothian on January 30 this year.
Cowie, of Whiteside, Bathgate, West Lothian, was placed on probation for a year and ordered to carry out 120 hours of unpaid work in the community.
Paul Beaton, depute procurator fiscal, said police attending an ongoing incident in the area had seen Cowie come to the door of the house "covered in blood".
He said: "She was very intoxicated and shouting hysterically. She was asked to leave the house but she refused. "She was then removed from the property by police officers, who attempted to calm her down. A paramedic approached the accused to treat her at which point Cowie lashed out with her foot and kicked her on the body. The accused was restrained and taken to a police vehicle. She was taken to hospital but required no medicines other than painkillers."
Mr Beaton said other people in the same house at the time were all "extremely intoxicated" after what was described to police as "a full day's drinking".
Raymond McMenamin, Cowie's lawyer, confirmed the fiscal's version of what happened. He said: "My client was so drunk she can't remember the events herself.
"What she did do following this assault was to write a letter of apology to the lady who was kicked."
He said Cowie, despite being underage, had indulged in drinking with the crowd of people at the house.
"That evening she was taken into custody in the early hours of the morning and kept in the cells until she was released in the early afternoon. She treated that as a salutary lesson as to her behaviour. Since these events she has refrained from drinking."
Passing sentence, Sheriff Donald Ferguson told Cowie she shouldn't have been drinking at all because she was underage.
He added: "You should stick to the position you've adopted of not becoming involved with alcohol. The Scottish Parliament made this an offence on the basis that people who assault ambulance workers and the like should be sent to prison."
Showing his thumb and index finger held close together he warned Cowie: "You have come that close to going to prison today. Given your young age and the facts that you have apologized and see how serious this is, I'm able to impose an alternative sentence."
A spokesman for the Scottish Ambulance Service said addresses with a history of trouble were now flagged on the Ambulance Service computer system so front-line staff could arrange a police escort.