Scotland fails to convict anyone of human trafficking offences
A report by Amnesty International has revealed a failure to prosecute traffickers, despite dozens of arrests in the past few years.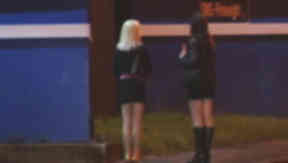 No one has ever been convicted for human trafficking in Scotland, despite dozens of arrests in the past few years.
A new report from Amnesty International on Wednesday revealed the lack of convictions.
Two years ago, 35 people were arrested during raids in which 15 trafficked women were discovered. However, the report, Wrong Kind Of Victim?, says: "Of the 35 who were arrested, 18 were convicted but for offences related to immigration or prostitution."
The human rights charity has now called for closer examination of the reasons behind Scotland's failure to secure any trafficking convictions.
Amnesty's Scotland programme director, John Watson, said more than 100 people were convicted of trafficking in England and Wales.
Giving evidence to Holyrood's Equal Opportunities Committee on Tuesday, he said: "For as long as that continues we are in danger of being seen as an easy touch."
The UK-wide report said measures to protect victims of people smuggling are "not fit for purpose" and accused the British Government of breaching its obligations under European law to protect trafficked people and uphold minimum standards of care. Amnesty added that, in Scotland, identifying possible trafficking victims outside of Glasgow was challenging.
It said a review showed senior police officers across Scotland were committed to tackling the problem. However, it remained unclear how well-informed frontline officers were, especially at identifying victims of trafficking.
Police officers in Strathclyde and Dumfries and Galloway were found to have "made good progress on addressing trafficking" but officers outside of Glasgow had not received the same amount of information as those in the city.
The report recommends that information-sharing protocols between the UK's police and law enforcement agencies be developed "to improve the likelihood of securing convictions of traffickers" in Scotland. And the Scottish Government should establish protocols with the UK Government to collect and publish data on the extent of human trafficking north of the border.
Amnesty also said the Crown Office and Procurator Fiscal Service needs to publish guidance for prosecutors on how to deal with trafficking victims who have committed offences, such as being forced to cultivate cannabis.
The charity also called for the provision of safe accommodation and support for trafficked people across Scotland.
Although the report is widely critical of failures to protect children who may have been trafficked, it applauds Scotland for making moves to help unaccompanied children. The Aberlour Childcare Trust and the Scottish Refugee Council are taking part in a two-year pilot which offers guardianship for children on their own.
Ann Hamilton of Glasgow Community and Safety Services, a charity which supports trafficking victims, said: "We are working closely with partners and government agencies to ensure that victims in Scotland receive the support they need as well as being able to hold the criminals organising this exploitative trade to account."