Frank McAveety resigns over 'dark and dusky' audience member comments
The Labour MSP for Shettleston will step down as Labour sports spokesman and Petitions Committee convener after being caught discussing the appearance of a committee audience member.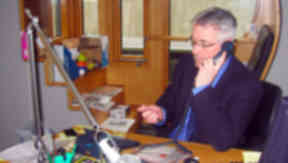 Labour MSP Frank McAveety has resigned from two high profile parliamentary positions after he was caught referring to a member of a parliamentary committee audience as "attractive" and "dark and dusky".
The Labour MSP for Shettleston was caught out when his comments were caught on microphone during a public petitions committee discussion on Parkinson's disease on Tuesday.
Mr McAveety, the committee's convener, was heard to say: "There's a very attractive girl in the second row, dark ... and dusky. We'll maybe put a wee word out for her.
"She's very attractive looking, nice, very nice, very slim. The heat's getting to me. She looks kind of ... she's got that Filipino look.
"You know ... the kind you'd see in a Gaugin painting. There's a wee bit of culture."
A Labour party spokeman apologised for his comments immediately, however, on Wednesday afternoon, Mr McAveety tendered his resignation, both from his convener post and from his position as the party's spokesperson on sport.
In a letter to Scots Labour leader Iain Gray, he wrote: "I would like to offer my resignation as convener of the Petitions Committee and my role as Labour's Sports spokesperson.
"I came to the decision after reflecting overnight on the reports of comments I made at the Committee yesterday. I would not want the incident to detract in any way from the work of the Committee and the substantial contribution I feel I have made as convener. I am proud of the progress made during my time as convener and that it has become much more accessible to the public.
"I would like to reiterate my apology for any offence which my comments may have caused."
Mr Gray declined to comment on the resignation, but STV News understands that Mr McAveety's decision was a personal one and not as a result of party pressure.
The married father-of-two is understood to have taken the decision to step down following widespread media coverage of the gaffe.
Glasgow SNP MSP Sandra White hit out following Mr McAveety's comments, saying they were "at best sexist and sleazy - and at worst, sexist, sleazy and racist."
Speaking following his resignation, Ms White said: "Frank McAveety's comments were utterly inappropriate and he has done the right thing by resigning - it's just a shame his party leader does not seem to know what that is.
"Iain Gray's failure to take action or to show any leadership demonstrates his appalling lack of judgment or awareness of the serious issues raised."
In 2004, when Mr McAveety was a Scottish Government minister, he was forced to apologise for misleading the parliament. He had turned up late to answer questions in the chamber and told MSPs he had been "unavoidably detained" on ministerial business.
It later emerged he was in the canteen, eating a pie and chips for lunch. The incident later became known as 'Piegate'.
Labour said it has nominated former minister Rhona Brankin to be the new Petitions Committee convener. Glasgow Anniesland MSP Bill Butler will take over as the party's spokesman for sport.