North Bridge in Edinburgh closed
Police closed the busy bridge for a number of hours after a man threatened to jump from the structure.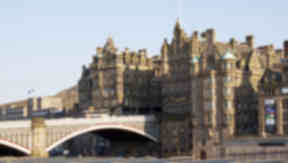 Commuters faced travel chaos on Thursday evening after a major bridge in the centre of Edinburgh was closed.
North Bridge, near Waverley Station, was shut off to motorists and pedestrians after a man theatened to jump from the structure.
Officers managed to talk the 34-year-old man down from the bridge and it was re-opened.
A Lothian and Borders Police spokesman said: "A 34-year-old male threatened to jump from North Bridge, Edinburgh. Following successful police negotiations, the man was removed safely."