First Minister to attend key meeting with UK representatives
Alex Salmond meets Irish Taoiseach, Welsh First Minister and UK Government ministers at day long British-Irish Council meeting.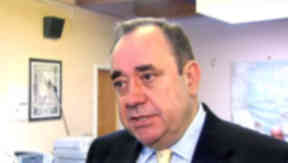 The First Minister will attend a key meeting with representatives from across the UK on Friday.
Alex Salmond will join Taoiseach Brian Cowen from the Irish Government and Wales's First Minister Carwyn Jones for the 14th British-Irish Council (BIC) summit at the Fermain Valley Hotel, St Peter Port, Guernsey.
Owen Paterson MP, Secretary of State for Northern Ireland, and Charles Hendry, Minister of State for Energy and Climate Change, are also expected to be at the day-long meeting.
A spokesman for the First Minister said: "The British-Irish Council in Guernsey is an important opportunity to discuss economic recovery, and the huge opportunities for Scotland in co-operating among these islands on renewable energy development.
"This is the first BIC since the UK general election - we now have coalition administrations in London, Cardiff and Belfast, and a minority government in Edinburgh, and neither of the two parties in the Westminster Government are in any of the devolved administrations.
"With that range of diversity, it is vital to have formal channels for co-operation and communication - including with our friends in the Irish Republic, Guernsey, Jersey and the Isle of Man - and the BIC is a key part of that process."
The BIC was established under the terms of the Good Friday Agreement in April 1998.
It brings together the governments of Ireland, the UK, Northern Ireland, Scotland, Wales, Jersey, Guernsey and the Isle of Man.