Secrets of Livingstone's last letter finally revealed
Scientists have used spectral imaging technology to recover the previously unreadable text of the explorer's final correspondence.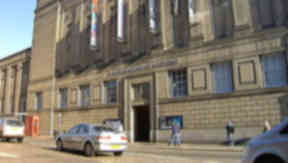 Scientists have used modern technology to uncover the secrets of the "indecipherable" last letter of African explorer and missionary Dr David Livingstone.
The four-page "Letter from Bambarre", written in February 1871, was intended for his biographer Horace Waller.
Livingstone had to write the letter on an old newspaper using berry juice for ink, and its faded condition had meant it had been impossible to read until now.
Researchers and archivists from the National Library of Scotland, Birkbeck College, London, and the David Livingston Centre in Blantyre have used spectral imaging technology to recover the text, which provides valuable insights into Livingstone's character and state of mind near to the end of his life.
He worries about his children at a "Do the boys Hall, in Scotland" (believed to be Gilbertfield in Hamilton), shares his fears about the spread of cholera in Africa, and looks forward to the complete abolition of slavery.
He also reveals himself to be highly competitive, openly criticising the achievements of his fellow explorers Samuel White Baker, Richard Burton, and John Hanning Speke.
At one point, he writes: "Either Baker is a liar or I am."
The letter includes some of his thoughts on the "awful traffic" of the slave trade, which he said could be "congenial only to the Devil and his angels".
He writes: "If our statesmen stop the frightful waste of human life in this region and mitigate the vast amount of human woe that accompanies it they will do good on the large scale and cause joy in Heaven."
As a doctor experienced in tropical and western medicine, Livingstone expresses complete bewilderment at two fatal local conditions - the sudden death of slaves from "Brokenheartedness", and the deadly practice of clay or earth-eating.
Dr Adrian Wisnicki of Birkbeck College was impressed by the findings in the letter.
He said: "When you look at his writings compared to others like Henry Morton Stanley or Samuel White Baker, Livingstone's remains one of the very few that you can read in the 21st century and feel you identify with him, his ideas and goals."
Some of the details of the letter were originally suppressed by Waller, who edited the posthumously published 'The Last Journals of David Livingstone in Central Africa', including the explorer's failing health.
Livingstone wrote to Waller: "I am terribly knocked up but this is for your eye only [-] in my second childhood (referring to his lack of teeth, several of which he extracted himself), a dreadful old fogie. Doubtful if I live to see you again."
Despite his ill-health in the midst of a cholera epidemic which devastated the local population, he wrote of his determination to complete his search for the source of the Nile.
He wrote: "Well I am off in a few days to finish with the help of the Almighty new explorations."
It is thought that, when he finally left Bambarre on February 16, 1871, Livingstone entrusted his letter to an Arab trader named Mohamad Bogharib, with whom he had previously travelled.
When he returned in September, Livingstone found that this letter was still with Bogharib in the same village.
The subsequent fate of the letter is unknown.
But it is likely that after his famous meeting with Livingstone in late 1871 - when he reputedly greeted the explorer with the famous words: "Dr Livingstone, I presume?" - Henry Morton Stanley carried the letter back to England in 1872, where it was finally delivered to Waller.
Livingstone was to die a year later in Zambia from malaria and internal bleeding caused by dysentery.
Dr Debbie Harrison, a researcher at Birkbeck College, said the letter was a huge contribution to Victorian studies.
She said: "It reflects Livingstone's state of mind, and it is obvious that his mental condition was as fragile as the paper he was writing on."