NHS Highland reviewing hundreds of X-rays after 'discrepancies found'
Images of 786 patients assessed by locum radiologist being investigated by doctors.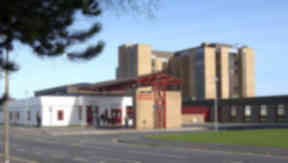 Health bosses in the Highlands are reviewing hundreds of X-rays and scans assessed by a locum doctor after "discrepancies" emerged in two cases he had worked on.
NHS Highland say they have set up a "Critical Incident Team" to review 786 radiological investigations at Raigmore Hospital in Inverness. Problems with two cases were identified by staff, who raised their concerns through NHS Highland's clinical reporting structure.
After an investigation, the health board decided to review all work carried out by the radiologist to ensure patients were receiving the correct treatment. The doctor worked at Raigmore for two weeks, between April 5 and April 16 this year.
He had been hired through a locum agency - and is said to be fully registered with the General Medical Council and had the appropriate references.
Health chiefs have written to all 786 patients whose MRI scans, X-rays and CT scans were examined by the consultant after they were taken. They have been informed that the images gathered from the tests are being reviewed and re-reported, and that they will be contacted again with the results.
The investigation is expected to conclude by mid-July - and if significant discrepancies are found in any images patients may require their treatment to be changed.
NHS Highland Medical Director Dr Ian Bashford said: "We have decided to review the work of this doctor because of concerns raised by other members of our staff.
"We acknowledge that patients receiving letters may be anxious and we would like to reassure them that X-rays and other radiological investigations are only one part of the whole process of assessing, diagnosing and treating patients and their condition.  Most of the patients will have already received the appropriate care and treatment."
Have you been affected? Contact our Aberdeen newsroom on 01224 848 844, or e-mail news@stv.tv