Woman jailed after chasing boyfriend down street armed with 18-inch barbecue fork
Charlene MacLean, 20, sent to prison for 21 months after incident in Inverness street.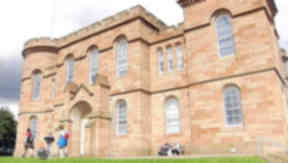 A woman chased her boyfriend in a city street armed with an 18-inch barbecue fork and threatened to break his neck, a court heard on Tuesday.
Charlene MacLean, 20, was caught just a month after being placed on bail for having a knife in a public place.
Depute fiscal Ron Phillips told Inverness Sheriff Court that police officers were called to a disturbance in the city's Union Street at 9.30pm on February 26. He added: "She was very intoxicated. She produced a barbeque fork from the back of her trousers."
Officers also heard her make threatening remarks at her boyfriend, saying 'I'm going to break his neck'. Mr Phillips said the incident happened weeks after police were called to another disturbance at the city's Craigton Avenue and found MacLean in possession of a knife.
When taken to Burnett Road police station in Inverness she then bit a policewoman on the thigh and a civilian worker on the hand.
MacLean, described as a prisoner of Cornton Vale jail, admitted charges of possessing a knife and two of assault on January 4. She also admitted breach of the peace and possession of an offensive weapon at Union Street on February 26.
Defence lawyer Craig Wood, for MacLean, told the court that she had miscarried during the early stages of pregnancy just prior to the first offences.
He said she had been carrying a knife because "certain people from the Ferry area of Inverness were threatening her with violence". On the second incident, Mr Wood said she had been angry with her boyfriend when drunk.
He added that the 20-year-old was a 'nice and gentle woman' when not drinking on top of taking anti-depressants.
Sheriff Gordon Fleetwood jailed MacLean for 21 months, and said: "Whatever your problems with drink or drugs may be, you are a young woman who makes a habit of arming yourself with sharp instruments."