Street fundraisers hassling public for money to be fined under new rules
'Chuggers' will not be able to follow people or approach those who are working under stiff rules.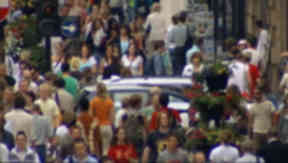 Street fundraisers who hassle members of the public for donations will now face stiffer penalties.
The charity workers, who are sometimes referred to as "chuggers" or "charity muggers", will no longer be allowed to follow a member of the public for more than three steps or approach people who are working, such as tour guides or newspaper vendors.
Fundraisers across the UK will be prevented from standing within three metres of a shop doorway, cash point, or station entrance, or sign anyone up for a Direct Debit who is unable to give "informed consent" through illness, disability or drugs and alcohol.
Collectors will also have to stop engaging with a member of the public who has clearly stated or intimated by body language that they do not want to speak to a fundraiser.
The new guidelines have been introduced by the Public Fundraising Regulatory Association (PFRA).
The group's chief executive Sally de la Bedoyere said: "For a form of fundraising that is so regularly in the limelight, it is vitally important that fundraisers work to the highest possible standards in order to maintain the confidence of the public, media, and central and local government.
"The commitment made by all of our charity and agency members to conform to these new special standards is testament to the seriousness with which charities take their best practice obligations."
Ian MacQuillin, the PFRA's head of communications, said it has been the group's "intention and ambition" to bring in more specific rules for street fundraisers for some time.
He added: "We want to do this to drive up standards. We want to regulate the method of fundraising. If charities fundraise in better ways and at higher standards, then it helps their longevity."
The PFRA are now hoping local authorities can play a part in improving standards of street fundraising.
Mr MacQuillin said Glasgow City Council designated specific areas in the city in March where "chuggers" are allowed to operate - the only local authority in Scotland to have done so.
Ms de la Bedoyere, after a review into English and Welsh local authorities on this issue, said: "We are keen to work with as many councils as we can to establish the right balance between charities' duty to ask people for support with the rights of the public not to be put under undue pressure to give.
"Our ultimate aim is to have a fundraising agreement for every place where street fundraising is conducted."
The new rules brought in on Monday have been on trial across the United Kingdom for a year and aim to enhance the existing codes of practice from the Institute of Fundraising.
Charities which break the rules will be given penalty points then fined. Breaking the rules will carry a penalty of 20, 50 or 100 points. When a charity accumulates 1000 points, it is fined £1 for each additional point.
The PFRA intend to monitor fundraisers through spot checks and mystery shoppers.