Married couples in Scotland are happiest in UK
New survey reveals Scottish couples are happier about tying the knot than the UK average.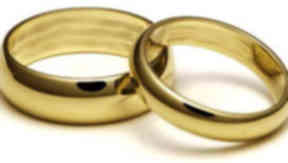 Married couples in Scotland are the happiest in the UK, according to survey results revealed on Friday.
Of the 993 married people questioned across the UK, an average of 70% said they were happy.
But of those quizzed in Scotland, 78% said settling down together made them happier.
The second largest proportion who said they were happy after tieing the knot were people in the Midlands, with 73%, followed by the South East with 70%, Northern England with 64% and Wales with 67%.
A total of 1,240 people in the UK were quizzed for the Happy Marriage Index for the dating website eHarmony.co.uk including 72 that were widowed, 30 separated and 145 were divorced.
Dr Gian Gonzaga, relationship scientist for eHarmony.co.uk, said: "Most couples will start off with very happy marriages. But over time the stress of life can get in the way of maintaining that happiness.
"Jobs, in-laws, bills, kids... all of these things can eat away at the quality of a marriage. That is why it is so important that spouses stay connected and understanding each other.
"Good communication is critical and if a couple fosters shared interests, common goals and values it can help both spouses understand each other better."
Out of the separated couples in the poll, 45% said they wished they had known the truth about their partner's bad habits before they had said "I do".
A total of 44% also said they wished they had known the importance of constant communication before marriage, while 40% said they wish they had known how essential it was to compromise.
Women were more positive about married life than men, with 72% stating they felt on cloud nine with their nuptials compared to 67% of men.
There were 261 married people questioned in the South East, 257 in the Midlands, 241 in north England, 135 in Wales and South West England and 99 in Scotland.
The eHarmony Happy Marriage Index is a six monthly study of 1,000 married, separated, divorced and widowed people to assess their perceptions of the institution of marriage and relationships.