SNP Nato U-turn might not spell an end to Trident in Scotland, party warned
Party's CND group claims major powers would postpone any removal of missiles post-independence.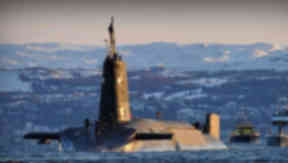 Scotland could be left hosting the UK's nuclear deterrent even if it votes to remove the weapons after independence, the SNP leadership has been warned.
Campaigners within the party will argue the case at the Nationalists' conference this weekend, before the SNP debates whether to accept Nato membership in what would be, if accepted, an about-turn in policy.
The SNP's Campaign for Nuclear Disarmament (CND) group will describe the experience of three other Nato countries which host US nuclear weapons while arguing for their removal.
In a briefing paper, the group states: "Germany, Belgium and the Netherlands could insist that the US must remove nuclear weapons from their soil.
"However, in each case, the democratic will of the population has not been carried out because it was in conflict with the desire to maintain cohesion and consensus within Nato."
The SNP leadership insists Scotland could remain in the treaty organisation with a clause insisting no nuclear weapons remain on its soil.
But the CND group argues that the remainder of the UK and the US would be keen to postpone any answer on the removal of Trident missiles from Scotland.
Changing the policy on Nato would not lead to a major shift in the number of people who may support independence in the referendum, likely to be held in autumn 2014, the group says.
"It confuses the strategy and makes the SNP look cynical and lacking in moral courage. It alienates almost all active supporters of independence outside the SNP and will cause more conflict within the Yes campaign," the paper states.
"It removes all differentiation between the SNP and the other parties. It does nothing to counter the media onslaught from those that oppose independence. In fact, tactically and strategically, it is hard to see what meaningful benefit it is meant to bring."
An SNP spokesman said: "The SNP has a cast-iron commitment to rid Scotland of nuclear weapons. Given the continued presence of Trident nuclear weapons in Scotland, against the wishes of her Parliament and people, independence is the only constitutional option which makes this possible.
"The factual position is that Nato doesn't decide where nuclear weapons are based. Weapons from one country that are stationed in another are only there by bilateral, mutual agreement. And the SNP position is clear and cast-iron: Westminster's Trident nuclear weapons will be removed from Scotland."