Man dies at T in the Park
UPDATE: Police name the 24-year-old from Aberdeenshire who collapsed and died at the end of the first night of the festival.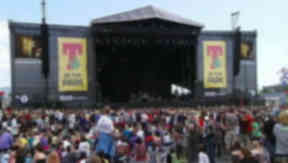 Police have named the north-east man who died at T in the Park.
David Ray Catto, 24, from Newtonhill, collapsed as he made his way from the main arena to the campsite just before midnight on Friday.
Two nearby police officers immediately tried to resuscitate him. An ambulance team were also called to help, but Catto died at the scene.
Catto's parents made their way to the Balado site and are now being supported by a police family liaison officer.
Enquiries into what caused his death are being made and a post-mortem examination will take place next week. However, detectives say there are no suspicious circumstances.
A Tayside Police spokeswoman said: "Our thoughts are with David's family and friends."
The death came as tens of thousands of music lovers geared up to enjoy the second day of Scotland's largest music festival.
The town of Kinross is expecting 85,000 revellers over the weekend to see headline acts including the Black Eyed Peas, Eminem, Jay Z and Florence and the Machine.
On Friday music lovers enjoyed performances including The Black Eyed Peas, Muse, Florence & The Machine, Calvin Harris and Echo & The Bunnymen
On Saturday music fans are treated to acts including Eminem, Stereophonics, Paolo Nutini, Vampire Weekend, The Prodigy and Scots brothers The Proclaimers.
STV weatherman Sean Batty is advising revellers to bring along their waterproofs and a pair of wellies to cope with the weekend's weather.
He said: "The rain clouds will gather and spread over the fields of Balado during Friday night which will take us into a very soggy Saturday. If you're going to be dancing in the mud bath on Saturday remember to take the waterproofs with you.
"The rain on Saturday afternoon will ease for a time but don't let mother nature catch you out as the rain will return during the evening with a renewed vigour with some heavy bursts.
"The good news is that Sunday should be dry with sunny spells. I am however giving a 30% of a shower so there is still a risk, but definitely a much better day than Saturday."
Chief Superintendent Craig Suttie, who is in charge of policing T in the Park, advised people to be prepared for all eventualities.
He said: "We share the expectation and anticipation of the music fans that migrate into the Kinross area for one weekend each July because we look forward to and are happy to host T in the Park in our force area each summer.
"I would appeal to everyone who is coming to T in the Park to enjoy the occasion, take care of themselves and their friends and help us to provide a safe environment for everyone to revel in what is an outstanding event."
Tayside Police said there would be a zero tolerance approach towards illegal drug use within the venue and anyone caught dealing or carrying drugs would be arrested.
Plain clothes officers and specialist drugs dogs will be at the festival.
Police in Edinburgh seized £5,410 of drugs on Friday which were allegedly destined for sale at T in the Park.
A 24-year-old man has been arrested and charged in connection with the seizure, which included quantities of cocaine, ecstasy, mephedrone and cannabis. He is due to appear at Edinburgh Sheriff Court on Monday.
By 6pm on Friday police had made 26 arrests, mainly for drug-related offences. There are 450 officers policing the event.
This year the festival has launched the Citizen T initiative for campers, which encourages campers to pledge to be a good camping citizen by looking after their camping area and that of their neighbours. Up to 70,000 campers are expected at the event.
T in the Park event manager Colin Rodger said: "Despite some earlier drizzle, the sun is now shining as we officially open the arena for T in the Park 2010, and the team are really happy with how things have progressed so far.
"The new Citizen T campsite has captured the imagination of our festival audience, and campers who have signed up and pledged to look after each other have now pitched up.
"It's all helping to promote the good-humoured and friendly atmosphere that we are enjoying on site this evening."