Same-sex marriage dispute set to intensify when Parliament returns
Church still at loggerheads against Government over issue many see as last stand against secularism.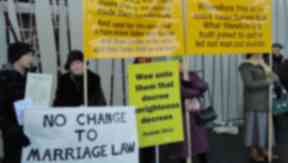 When Scotland's Parliament returns at the beginning of September the row over same-sex marriage looks set to intensify.
Many observers see the dispute as a last stand by some churches against aggressive secularism, and the issue has led to an increasingly strained relationship between the Catholic Church and the Scottish Government.
The church is opposed to the reforms and is fighting to turn the tide of opinion at Holyrood. Over the weekend Cardinal Keith O'Brien suspended direct talks in protest at the Government's stance.
While the debate may not have generated the bile associated with the discussion over the repeal of section 28, the Scottish Government's ambition to legislate for same-sex marriage is set to herald an altogether more complicated civic exchange.
When lawmakers draft new legislation they will have to tiptoe through a legal minefield in which the rights of citizens, parents and religious leaders will all have to be respected even if existing human rights laws seems to put them on a collision course.
A legal opinion provided for the Catholic Church says that under same-sex marriage legislation teachers could be compelled to emphasise the validity of equal marriage.
Under the European Convention parents might find it difficult to excuse their children from lessons they consider morally objectionable. The law could provide no escape route for parents who want their children taught the laws of their church.
The Catholic Church's John Deighan said: "We've come across the situation in other countries where parents have had to stand back and watch their children being subjected to propaganda."
Concerns
The Scottish government examined some of these concerns before coming out for the principle of equal marriage. A cabinet subcommittee involving the education secretary and the Lord Advocate crystallised some of the legal issues.
However, experts say that resolving them is quite another matter. Opponents of reform claim a court could overturn the decision of a religious celebrant -a priest or a minister - not to conduct a same sex marriage.
Mr Deighan said: "It's very useful to say 'don't worry, we're never going to force a priest to marry two men or two women.'
"The issue's much wider than that, that's not the assurances we're looking for. We're looking for assurances across society - will people have freedom of speech, will they have freedom of belief, will they be able to tell their children what's right and wrong about relationships?
"I don't think that will be possible under the proposed change in the law."
Church groups are concerned that if this battle is lost, aggressive secular liberalism will eventually marginalise the role of churches in society. In a sense there is a legal battle over rights but also a broader one about religious versus humanist values.
Attitudes
Scottish Green Party leader Patrick Harvie said: "Let's remember that most marriages in this country are entirely secular matters. Most people getting married don't have the churches involved in any way at all.
"It's really appropriate, I think, that society's laws should match society's attitudes."
For the churches this is a moral question. Alex Salmond says it is a matter of conscience. Most MSPs appear to see it as a simple matter of citizenship and Parliament defining Scotland as a civilised place which respects human rights.
Scottish Labour MSP Drew Smith said: "For me personally I think it's really an issue, fundamentally, of equality, because I do think it is important that, as a society, we value individuals in our society equally and I think that the distinction that currently exists in terms of how we define people's relationships suggests that they are not equal."
The road to reform will not be straightforward. The Scottish Government wants Westminster to change equalities legislation to provide safeguards for the church. But there are signs of growing unease among English Conservatives who see this as a reform too far in David Cameron's modernising agenda.
The betting must heavily favour reform but not before more tortuous legal debate and anguished soul searching. This is a battle many see as old Scotland -socially conservative and deference to religious faith - against a modern country, not afraid to show leadership even if it appears to be burying the values of the past.
An earlier version of this online article incorrectly attributed the views of John Deighan to Aidan O'Neill QC. We apologise for this mistake.