Protesters claim children's books will 'promote gay marriage'
Scotland for Marriage says 100 people will protest outside Thursday's cabinet meeting in Renfrew.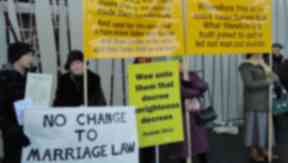 Campaigners against same-sex marriage plan to carry banners showing the covers of children's books at a protest on Thursday.
The Scotland for Marriage group expects around 100 people to join the demonstration when the Scottish cabinet meets in Renfrew.
They say that protesters will carry placards adorned with the covers of books including The Sissy Duckling, Daddy's Roommate and Mom and Mum Are Getting Married.
All three books deal with homosexuality or gender differences, with The Sissy Duckling in particular having garnered critical acclaim for its message of tolerance and self-acceptance. The book is based on an animated film written by award-winning playwright and actor Harvey Fierstein which was originally shown on US channel HBO.
However, Scotland for Marriage believes the books would be used as teaching resources to "promote gay marriage" if same-sex marriage legislation is passed.
The group, which counts the Catholic Bishops' Conference of Scotland and the non-denominational Christian Institute charity among its backers, also claims that teachers could be punished if they did not use the books.
A Scotland For Marriage spokesman said: "Under sex education rules, schools must tell children about marriage. If the legal definition of marriage is changed, there will be political pressure for books like this to be used. Our legal advice is that teachers could be disciplined if they refuse to use the resources.
"Parents may also find it difficult to withdraw children from classes.
"Our supporters are highly motivated and harbour deep fears for the future that if the marriage laws are redefined, gay marriage will be promoted to schoolchildren in Scotland."
The Scottish Government recently announced plans for legislation to allow same-sex couples to marry. At the time Deputy First Minister Nicola Sturgeon insisted that it is "the right thing to do".
But the decision was condemned by many of the country's religious leaders, with Scotland For Marriage describing the Government's plans as "ill-conceived and poorly thought-out".
Under government proposals, same-sex couples will be able to have a religious wedding although Ms Sturgeon has stressed that no church or religious celebrant would be compelled to conduct same-sex ceremonies.
The SNP administration is now having a "focused consultation" to consider what other protections could be included in the legislation.