Charity calls for more comprehensive treatment for women who miscarry
Under current NHS guidelines couples can only undergo testing after three miscarriages.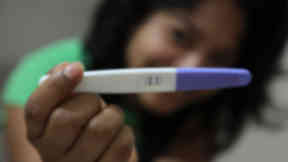 The country's leading support group for women who suffer miscarriages is calling for a change in the treatment offered to those affected.
They say the causes of miscarriages are not being pinpointed early enough to prevent further episodes.
Lee McKeddie from Glasgow suffered two miscarriages in 2011. The 34-year-old lost twins in June, and then suffered another shortly before Christmas.
She said: "You hear all the cliches, people say oh it wasn't meant to be, you are still young…but at the time all you want is answers and a reason why."
As NHS guidelines stand, only couples who suffer three consecutive miscarriages get medical testing to investigate the cause.
One of the country's top support groups says that this is leaving many women too scared to try for another child.
Maureen Sharkey, from Scottish Care and Information on Miscarriage, said: "These women are very much being abandoned in their time of need. I can think of no other condition where you have to go away and suffer another episode then come back and get testing."
More than 5500 women in Scotland suffered a miscarriage in 2011. Campaigners are now calling for examinations including blood and hormone tests to be made available to women after one miscarriage.
Ms McKeddie said: "I think its time, the testing is really important. If you know the cause or there is something you can do, it could save a baby's life."
The charity's petition calling for guidelines to change has already attracted thousands of signatures.
The Scottish Government said that every effort is being made to ensure that women in this situation receive appropriate follow-up care.
A link to The Scottish Care and Information on Miscarriage petition can be found on their website.