Buckfast ice cream a hit with customers at upmarket restaurant
The controversial tonic wine is on the dessert menu at E:I:S brasserie in Leith in Edinburgh.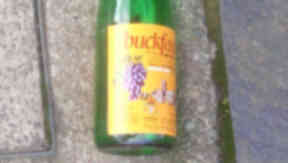 Ice cream made from the controversial tonic wine Buckfast is proving a hit with customers at a swish restaurant in the capital.
Buckfast ripple ice cream is on the menu at the Englishman, Scotsman and an Irishman, or E:S:I, brasserie in Leith, Edinburgh.
Co-owner Richard Waugh said customers find the taste "unusual".
He said: "Some people like it, some people don't. Most of the people that like it find it unusual, it's not quite what they're expecting.
"It's a little bit sweet. I think they tend to enjoy it, it's nice for a change."
The caffeinated alcoholic drink is reduced down to a syrup and is added to the ice cream to create a ripple effect. It is not the first time the restaurant has used the drink in a recipe.
Buckfast and rhubarb crumble "went down well" when it was on the menu last year, Mr Waugh said. The combination was only withdrawn to keep the dishes on offer "new".
Mr Waugh is aware of the controversy surrounding the drink. He said: "I wouldn't say we're overly Buckfast-orientated.
"I understand why people have a problem with it, but it's more the caffeine content that people tend to get more of a kick out of than the alcoholic side of it."
It emerged earlier this year that the drink, brewed in Devon, was mentioned by Strathclyde Police in 5,000 crime reports over three years.
During that period Buckfast bottles were used as a weapon 114 times, leading police to say there is an association between Buckfast and violence.
Scottish Labour is proposing measures which could see the drink banned. The party wants to set the caffeine limit at 150mg per litre, which would effectively remove Buckfast from shops unless the content is reduced from 375mg per litre