Lockerbie doctor speaks out over Megrahi comments
Professor Karol Sikora sparked a row over the decision to release the Lockerbie after his comments to a newspaper.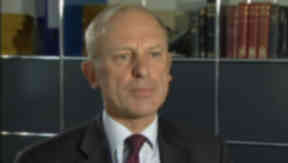 The top doctor who sparked the latest row over the decision to release the Lockerbie bomber has condemned the way his comments were reported in an exclusive interview with STV News.
Professor Karol Sikora was quoted in a newspaper last week as saying he believed Abdelbaset Al Megrahi could live for as long as ten years despite suffering from terminal cancer.
He reportedly said Megrahi's survival past a three-month prognosis was "embarrassing".
The medical director of CancerPartners UK, who compiled a report on Megrahi's condition for the Libyan government before he was freed, also said: "There was always a chance that he would live for 10 years, 20 years... But it's very unusual."
Following the professor's apparent comments US Senators called for an immediate investigation and Scottish Parliamentarians questioned the medical evidence upon which Kenny MacAskill took his decision to release a mass murderer.
The oncologist Prof Sikora has condemned the way his views have been reported. They have proved significant because demands for an inquiry rests in part on the view that he believes Mr A Megrahi could live for another ten years.
The professor says that his comments to a newspaper were used in such a selective manner that it did not convey what he accurately felt.
He said: "It is possible but it is highly unlikely and unfortunately in the report ten days ago the highly unlikely was chopped off. So it looked like I was saying a prognosis of ten years which is absolutely not the case.
"In theory there is always a tail in cancer and the size of the tail in terms of survival varies from cancer to cancer.With breast cancer and prostate cancer, which Mr Megrahi had, it can be some years.
"Saying that there was more than a 50% chance, in my opinion, that he would have died within the last three months. and gradually as you go along the chance gets less and less. The chance of living 10 years is less than 1%."