Fast identification of disaster victims thanks to Dundee University research
A new database which can identify and link missing people and unidentified bodies is being developed.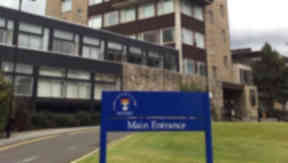 Dundee University researchers are developing a "one stop shop" which has to lead to the faster identification of victims or missing persons following a disaster.
With this database emergency teams can repatriate victims as quickly as possible.The need for an international centralised database to identify and link missing persons and unidentified bodies was recognised after the Asian tsunami in 2004.
The fast and efficient international disaster victim IDentification project is aimed at providing a "one stop shop" for teams in the field either responding to a disaster or national police trying to locate a missing person.
Peter Ambs, project leader, said: "After a major tragedy, such as the Asian tsunami, it is vital that with so many countries involved either in terms of victims or first responders, that there are standardized and recognized procedures to ensure the fast and efficient identification of victims so that they can be repatriated as quickly as possible.
"The combined elements of this database and its accessibility to law enforcement across the world will help meet the needs of both day to day policing and for those responding to disasters, where and when required.
As part of the project, which will take about three years, research is also being carried out into image retrieval methods, including a computerized system to browse and identify potential matches to help forensic identification in relation to faces, tattoos, body jewellery and clothing.
"The Disaster Victim Identification programme at the Centre for Anatomy and Human Identification at Dundee University, an internationally-leading centre in the fields of human identification, forensic anthropology, cranio-facial reconstruction and the study of the human body, will provide expert training as part of the project.
Professor Sue Black, director of CAHID, said: "The aim of the DVI programme is to provide a standardised response to any major disaster anywhere in the world, so that the people arriving on the ground know what is expected of them and can start working together quickly and efficiently.
"The spur for the international training programme came from the response to the Asian tsunami, which showed the need for improved methods of reporting and
 data handling, which are key in building the evidence base to make identifications of hundreds or thousands of missing people.
"Our entire programme is aimed at speeding up the ante- and post-mortem procedures so that we can get IDs to families as soon as is possible."
Professor Black and her team have extensive experience in DVI following deployments to incidents all over the world, including Kosovo, Iraq, Sierra Leone, Sri Lanka, Egypt and Thailand.