Scotland's pride: How the country reacted to Andy Murray's US Open win
Andy Murray has been offered the Freedom of Stirling after beating Novak Djokovic.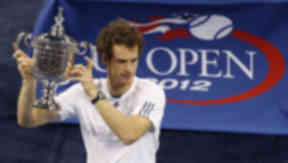 Andy Murray has been named Scotland's national hero after he beat Serbian Novak Djokovic in an epic five-hour battle at the final of the US Open tennis championship.
The 25-year-old took his crown after a gruelling four hours and 54 minutes of play, eventually winning the match in five sets 7-6, 7-5, 2-6, 3-6, 6-2.
Murray, who is from Dunblane, has been offered the Freedom of Stirling following his epic win. Stirling Council has been in touch with his management team to discuss the details.
Stirling Provost councillor Mike Robbins said: "It's a match that no-one who watched it or listened to it on the radio in the wee small hours is ever going to forget. The whole community will want to congratulate Andy on his first Gland Slam title, and on the glorious, warrior-like way he won it. He's proved himself as an outstanding athlete and a man of true grit, and we'd love to offer him Freedom of the City of Stirling as a lasting mark of our thanks, our support and our respect."
There are also proposals to rename the tennis centre in Edinburgh he trained at as the Andy Murray Tennis Centre at Craiglockhart.
Murray was supported at the match at Flushing Meadows, New York, by his fellow countrymen Sir Sean Connery and Sir Alex Ferguson while fans in his home town of Dunblane stayed up until 2am on Tuesday to see him finish with a win.
At the Dunblane Hotel in Murray's home town, near Stirling, posters of the champion were hung on the walls and champagne was on ice ready for his victory.
A crowd of around 80 fans packed into the bar to watch the nail-biting five-hour game into the small hours of this morning, before erupting into a mass celebration and chanting "There's only one Andy Murray".
Gavin Noland, 63, said: "Andy is Dunblane's hero, not just Dunblane, the whole of Scotland and the rest of Britain. He was magnificent. I've been following him from the very beginning."
The bar kept its doors open late to allow the patrons to see the end of the game, and dished out popcorn and hot dogs.
Murray's Open win followed his gold medal in the men's singles at the London 2012 Olympic Games. On Friday, SportScotland and the Scottish Government have organised a homecoming parade in Glasgow for all Scottish Olympians and Paralympians.
On Tuesday, SportScotland confirmed it is still awaiting confirmation from the first British tennis player to win a Grand Slam in 76 years that he will attend.
And Dunblane SNP MSP Keith Brown has repeated his calls for Andy Murray to be given the Freedom of Stirling.
Mr Brown, who wrote last month to Stirling Council asking them to consider granting the tennis player the honour after he took gold at the Olympics, hailed the Dunblane-born star's victory over Serb Novak Djokovic.
The Clackmannanshire and Dunblane MSP said: "This is the first time a Scot has won the US Open, a truly historic achievement by Andy Murray whose hard work has really paid off. This has been a fantastic year for Andy who reached the Wimbledon final, won an Olympic gold and has now earned his first Grand Slam title.
"Dunblane is extremely proud of Andy and inspired by his success. That is why I believe he should be given the Freedom of Stirling and the Freedom of Dunblane. He is a world-class Scottish sporting star and truly deserves his win. We have watched Andy develop and improve over the last few years and I'm sure this is only the first of many Grand Slam titles he will go on to win."
Scotland's First Minister Alex Salmond also expressed his delight and said: "Congratulations to Andy Murray on what was a fantastic performance. This is another brilliant win over Novak Djokovic and continues an amazing year for Andy.
"Now Olympic and US Open champion, Andy truly is a Scottish sporting legend and I'm certain that more grand slam titles will follow."
Reactions to Murray's win also came in on Twitter.
What a historic night! Tonight Andy achieved his dream. He got the result his talent dedication and perseverancedeserved. So proud of him.

— Jamie Murray (@jamie_murray) September 11, 2012
Well deserved...Congratulations to the #USOPEN Champion Andy Murray!!!

— Andre Agassi (@AndreAgassi) September 11, 2012
God bless @andy_murray, his friends, family, and the good people of Dunblane, Stirlingshire, Scotland. Big love and big thanks from us all x

— Irvine Welsh (@WelshIrvine) September 11, 2012
Andy Murray has just made me cry. The man is a God. I'm so happy.

— Jimmy Carr (@jimmycarr) September 11, 2012
Congratulations @andy_murray on your well deserved, brilliant win at US Open. I cheer your victory & everyone back home is so happy for you!

— Kevin Spacey (@KevinSpacey) September 11, 2012
IN DEPTH