First snow of autumn falls on Britain's highest peak as temperatures fall
Ben Nevis weather reported that rain has turned to snow above 2700ft on the mountain.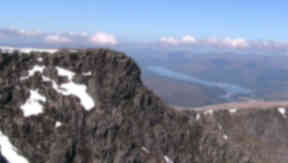 The first snow of autumn has fallen on Britain's highest peak in the Highlands.
Weather reports from Ben Nevis, in the Lochaber area, reveal 2000ft precipitation is falling as rain but by 2700ft it has turned to snow.
Snow showers are expected to continue throughout Tuesday with the mercury dipping to around -2C by 4400ft.
Ben Nevis weather reported: "Gales on higher slopes will strengthen on Tuesday. It will also be cold with showers falling as snow above about 2700ft.
"There will also be bursts of sun, and cloud will occasionally lift off the summit. On the summit, due to wind chill, it will feel as cold -17C in the afternoon."
STV weatherman Sean Batty: "Over the last few days the air has become much colder over Scotland originating from Greenland. A deep area of low pressure to the north of the country on Tuesday will bring near gale winds for the north and west with lots of showers, which will continue to be wintry on the tops of the mountains.
"Temperatures are expected to recover a little later in the week."