Outside hospital smoking ban backed by health board
NHS Grampian approved strict new rules but will continue to assess the proposal.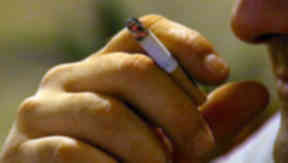 NHS Grampian has backed strict new proposals which would see smoking banned outside its hospitals.
The plans, which could also see staff fired for carrying tobacco on hospital grounds was approved by the health board at a meeting on Tuesday but will continue to assess the impact of a proposed ban.
The scheme was suggested last year but was thrown out by the board. Scotland introduced a ban on smoking in workplaces four years ago but the legislation only covers indoors.
Smokers at Aberdeen Royal Infirmary are currently allowed to smoke outside its building. However NHS Tayside has already banned this practice. Dundee's Ninewells Hospital has been smoke free for three years. Loudspeakers remind people at the main doors of NHS Tayside Policy.
Campaigners against the move say trying to stop people smoking outside would be against the law and that education is the key.
NHS Grampian admit there may be exceptional circumstances when it would be inappropriate to stop a distressed patient having a cigarette. But they insist they cannot support smoking.