Report paints 'bleak' picture of Scotland's transport network
Greens claim SNP policy 'can't be trusted' after report finds rising pollution and travel fares.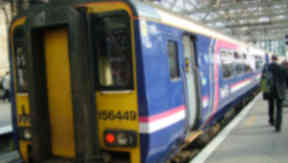 The SNP "can't be trusted" to fix Scotland's transport problems, according to an MSP.
Alison Johnstone said that a report from sustainable transport charity Transform Scotland highlighted the need for a U-turn in Government thinking.
The report, called Warning Signs, said the country's transport network faced "serious challenges" as climate emissions, air pollution levels and bus and train fares all continued to rise.
It also found that just 1% of Scots regularly uses a bike, despite 63% of car journeys being under 5 miles.
Co-author Sandra Wechner said: "The overall picture is fairly bleak, with increases in greenhouse emissions from transport and serious public health problems from air pollution.
"Public transport fares are also rising ahead of the price of using a car, and the government's cuts to bus investment are likely to drive people away from public transport."
As a result of the findings, transform Scotland called for the Government to fully fund its climate change action plan and reconsider its budget cuts for investment in buses and active travel such as walking and cycling.
'Polluting'
Ms Johnstone, Green MSP for Lothian, said: "This government has its foot to the floor on the most polluting and unfair transport policies imaginable, cutting funding for buses and cycling and scrapping vital rail projects."
Transport Minister Keith Brown has said the Government would invest £1bn in transport over the next 12 months, including £650m on upgrading the Glasgow-Edinburgh rail link.
However, Ms Johnstone claimed that the money was being spent in the wrong areas.
She said: "Keith Brown tried to defend his daft choices by claiming maintenance is required. But the reality is our streets are littered with potholes while the councils responsible are constrained in their spending by his Government.
"He also claimed his spending on roads would help cyclists but who in their right mind would want to cycle on the M74 or a dual carriageway A9? Bikes will in fact be banned from using the new Forth Road Bridge.
"It's clear the SNP simply can't be trusted on transport. They have an opportunity to do a U-turn and start to make amends when they put forward their budget proposals next week."
A Scottish government spokesman said: "Scottish ministers are focused on transport initiatives aimed at reducing traffic congestion and increasing the proportion of journeys made by public or active transport as we move towards a low carbon economy.
"In 2012-13 we will invest over £1bn in public transport and other sustainable transport options to encourage people out of their cars.
"The Scottish government's spending on transport and infrastructure projects is a key driver in boosting the country's economy.
"In these difficult economic times, providing hundreds of jobs in the hard-pressed construction industry plays a key part in delivering our vision of a wealthier, fairer and better connected Scotland."